Guara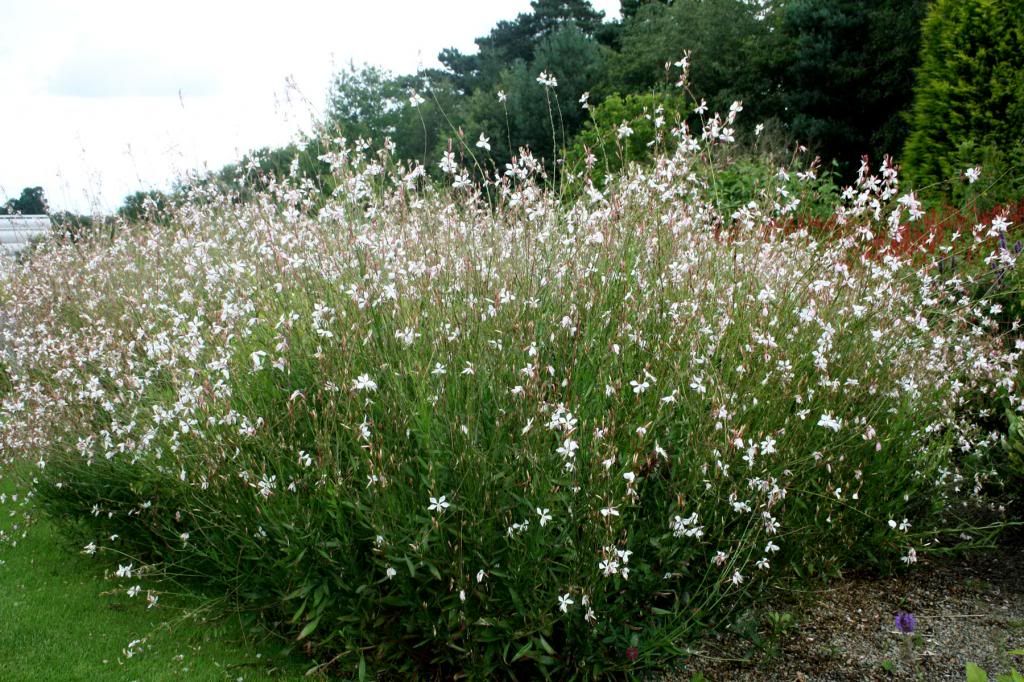 Guara lindheimeri, aka Whirling Butterflies is a Texas Native Plant. It is an upright, clumping perennial native to the Gulf South. Its leaves are long and skinny with slight serration. The long thin stalks are slightly reddish in color. The deep tap root which allows Guara to tolerate drought makes transplanting tricky, but it can be moved if care is taken. The flowers have four petals which range in color from white to deep magenta and are about one inch long. The flowers growing on the terminal ends of the stalks sway in the breeze and appear to dance, hence the name Whirling Butterflies.
 Plant in early spring and by fall a large clump of whirling butterflies will be established. Hard pruning in late winter just before spring will keep Guara tidy and compact. It can be divided after it has a few years to become established. Guara may reseed, but it is not aggressive. It will attract butterflies and hummingbirds and is deer-resistant. 
Planting Guide for Guara: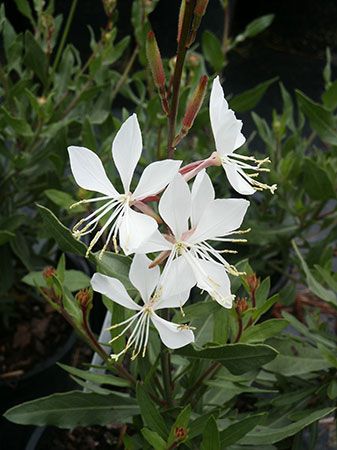 Sun: Thrives in FULL SUN. Can grow in partial shade
Soil: WELL DRAINING soil is a must. Can develop root rot if soil is poorly-draining.
pH: Slightly acidic to neutral. Can tolerate alkaline conditions.
Water: Drought tolerant once established.
Uses: Attractive to Butterflies and Hummingbirds, containers, cuttings, borders.
Bloom: Spring through Fall.
Type: Perennial
Size: 2-4′ x 2-4′
Growth: Medium to fast