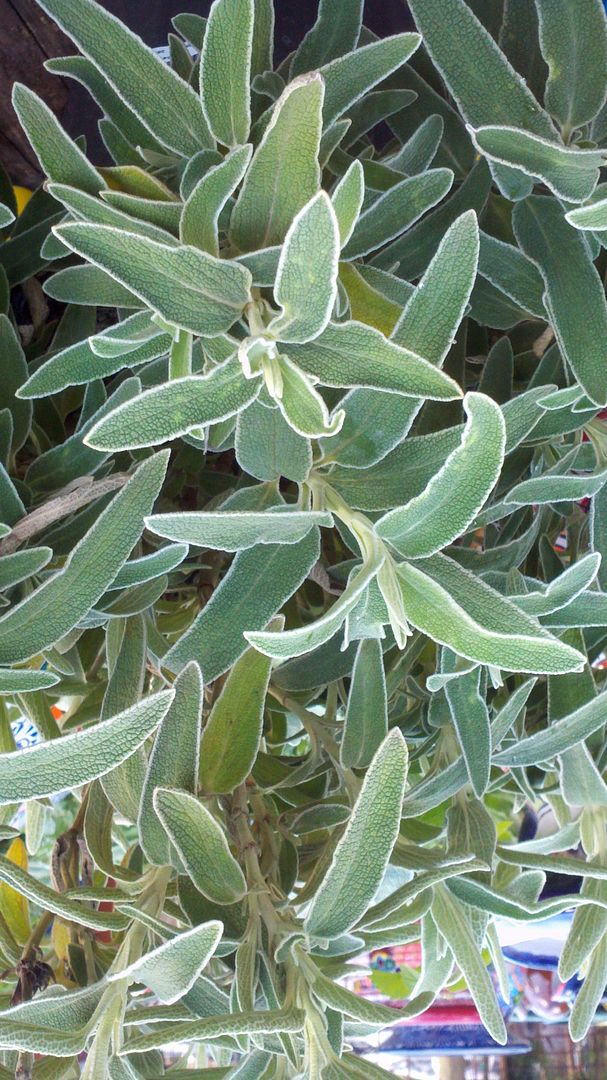 Culinary sage is a favorite spice used when cooking, especially with poultry.  Herbalists know it to have medicinal uses as well. It is an evergreen perennial in the Salvia family, and does well in zones 5 through 9, with the plain green leaved variety being hardier than the variegated and purple leaved varieties.
Being a salvia, this variety does well if it can dry out between waterings (but not being totally dry for too long).  Being in a well drained area is a must.  Full sun is preferred, but in the hot summer months, half a day of sun might be a relief for any plant, including this one.  This type of sage blooms in mid-summer with purplish blue spikes of flowers.  It can become a small woody shrub that can live 3 to 4 years, getting about 1 to 2 feet tall and 2 to 3 feet wide.  Harvesting leaves for cooking and general pruning will help to reinvigorate more established plants.
Culinary sage grows well in the summer in partially shaded areas. The grayish green fuzzy foliage adds a nice texture to any perennial garden. Sage prefers well-drained soil and will do well in containers. Sage is a great addition to many recipes.  
Plant Profile:
Type: Herb
Garden habitat: Garden or container.
Exposure: Sun to part sun
Care: Regular watering & well-drained soil.
Blooms: Spring – summer; lavender in color.