Uncategorized
Poinsettias seem to be the official flower of the holiday season. With a minimal amount of care, poinsettia blooms will last for several weeks, maybe even longer. Place your poinsettia plant in indirect sunlight, away from drafts or heating vents in your home, and water when soil is dry to the touch.  Fertilize after the blooming season with a balanced all-purpose fertilizer. Plants can be moved outside after all chance of frost has passed. Getting a plant to re-bloom outside of a controlled environment can be difficult, requiring 14 hours of complete darkness each day for 14 weeks with a constant temperature, but growing an attractive plant in the yard is possible with a minimal amount of care and protection from freezing as with any other tropical.
For years this colorful traditional Christmas plant has taken a bad rap, the one of being poisonous.  In fact, the POISINDEX Information Service, the primary information resource used by most poison control centers, states that a 50-pound child would have to ingest over 500 poinsettia bracts to surpass experimental doses. Yet even at this high level, no toxicity was demonstrated.
Don't forget, poinsettias grow well here in the ground after Christmas. Just don't let them freeze! Come see us at the nursery. We have lots of poinsettias to choose from!
By: Deb Pavlosky
Evidently, I am late to this secret, but if you grow paperwhite narcissus bulbs, there is a way to keep the foliage from growing too tall and falling over.   WOW!  I am so excited to start my bulbs now!!!  When planting your bulbs, choose a container with no holes and use a substrate of gravel or rocks or marbles, etc.  I like to use canning jars or wine glasses or hurricanes, etc with some colorful and pretty gravel.  Use just enough substrate to support your bulb without completely covering it.  Find a nice sunny location to place your bulb (whether indoors or out) and add water to the container to just reach the bottom of the bulb.  Add water as needed to maintain the water level.
Then you wait….
Once roots appear and a green shoot is growing about 1″-2″ above the bulb, pour off the old water and replace with a 4%-6% solution of hard liquor (like vodka, gin, tequila, rum, whiskey, etc).  To get a 5% solution from an 80 proof (40%) distilled liquor, add 1 part liquor to 7 parts water.  You can use isopropyl alcohol if you reserve your booze for more important uses (for 70% rubbing alcohol, use 1 part rubbing alcohol to 10-11 parts water).  Anytime you add water to your bulb, use the alcohol solution.  This stunts the growth, but not the size of the flowers.
Voila! You should get short, but beautiful flowers!!!!  I may even try this on some other bulbs too!!!!
Helpful hints:
*Don't use more than a 4%-6% solution, you will kill your bulbs
*Don't use beer or wine, the sugar will harm your bulbs
To read more about "Pickling your Paperwhites" go here:
By: Gloria Cadena
To be honest I am not a typical fan. I am a Fan of the Nursery a fan of Jim and Carol. I am a fan of Music. That being said I am a Fan of Alex Maas. Mainly because I love my bosses. It is a joy to hear Jim Maas talk about his kids. To talk about his son.
I have heard many of The Black Angels songs, sitting in Jim's office. They have a unique sound. Alex has a unique voice. A voice that is his own sound.
My daughters are huge music lovers. This year I decided to get them and myself 3 day passes to Austin City Limits music festival.
The Black Angels were one of the bands.  We made it a point to stop what we were doing and check out my bosses sons group. He drew such a crowd. All ages from the older to the teenagers. It is real music, real lyrics, real instruments, a girl drummer and just really entertaining. 
I must admit "Austin psych", the genre of music that is The Black Angels is very chill.  I have never personally met Alex, but watching him do his thing at ACL, well I felt like a proud sister. I knew Dad, Jim Maas was, is a proud father.
By: Kim Messer Nichols
        As summer slowly winds down, it is a good time to plan and create a quiet spot in your yard to sit and relax from a hectic day or week.  The upcoming cooler weather will make an evening in your garden both peaceful and refreshing.  I have flowering plants and shrubs in my landscape as well as hanging baskets hanging from long chains from our Oak Trees.  I have plants which bloom for several days to weeks that attract butterflies and bees.  Pentas, Salvias, Lantana, Porter Weed are wonderful nectar plants for the bees and butterflies.  Milkweed, Fennel, Cassia and Passion Vines are host plants for butterfly caterpillars. I consider these plants to be my daytime standouts.
        Some people do not know that you may have nighttime standouts as well.  I have two upright Night Blooming Cereus.  They are slightly different varieties which open about 10:30 at night with quite a spectacular display.  The large bud, about 3 to 4 inches will pop open in about 5 to 10 seconds.  It will only last for the night and will start closing just after sunrise. I also have a night blooming Epiphyllum Cactus which is in the Orchid family.  It will also pop open around 10:30 and produce a very fragrant bloom until sunrise.  I usually have to catch them in early morning before sunrise.  What a great way to start the day.But I must admit,  my most favorite night bloomer, is my Night Blooming Jasmine.  Tiny white tubular flowers will burst open with fragrance once the sun sets.  Not at dusk, but once darkness envelopes the yard, the Jasmine flowers shoot fragrance out like a bellows creating a heady cloaking fragrance.  It is really quite spectacular.  What a great way to end the day.
        So pull up a chair and enjoy your garden.  Cooler weather makes morning, afternoon and evening all equally enjoyable.  A bird, bee and butterfly friendly environment will be a joy to all who take the time to sit and enjoy the view.
| | |
| --- | --- |
| Night Blooming Cereus | Epiphyllum Cactus |
The Good, The Bad and The Buggy
By: Jennifer Gregory
They wriggle and creep through the undersides of leaves, looking for their next meal. They eat, hunt, and grow until one day they transform. Weeks pass and a new life splits forth, spreading wings out to dry as it's carapace develops color and hardens. These voracious predators take to the sky and descend where they see their chosen prey.
This Summer, Coming to a Garden Near You! Ladybugs!
The Terror of the Aphid!
Ladybird beetles, commonly known as Ladybugs are a brightly colored beetle whose iconic red with black spots pattern is instantly recognizable. What is less easy to recognize are their larvae.
This fearsome looking fellow is the larvae of a ladybug. This is one from about the middle of it's development. The younger larvae are solid black and the older larvae can show more orange mottling with a marked decrease in the "spikes" covering them.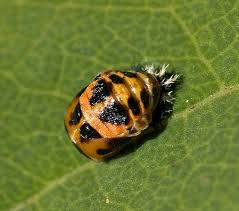 When a ladybug is about to mature from a larvae to an adult it will form a pupa. The pupa looks more like a mature ladybug, however, once the insect crawls free of it, it will still not bear much of a resemblance to the final mature form. While the beetle's shell is hardening it will be a creamy yellow-orange color, and totally free of spots. Once mature the newly hatched ladybug will be the familiar red hue with black spots.
If you have aphids you probably have ladybugs, be sure to check any plants prior to treating them so you're not taking the good out with the bad!
Lantana Lace Bug (Teleonemia scrupulosa) is a destructive pest that does extensive damage on lantana. Lace Bug feeds on the underside of the leaves and newly opened blooms. The damage can prevent new blooms and even leaf dropping. It's easy to identify if you have this pest in your yard. The upper side of the leaves will be white from the chlorophyll being drained out and the underside of the leaf will have black spots of waste.  The edges of the leaves may also brown and curl. The extreme amount of damage this insect can inflict is so detrimental that it has been imported to countries where lantana is a noxious weed as a form of control.
Methods of treatment include light horticultural oil, insecticidal soap, neem and spinosad.
Predatory insects, such as lacewings, may also be used as a control.
I admit it. I am a compulsive plant collector. I collect native plants, heirloom vegetables, antique roses and all kinds of salvia. My new obsession… tropical hibiscus.They are the most showy, colorful, stunning, spectacular plants and flowers in the world! (in my opinion) And the fun part is growing them is easy. Tropical hibiscus have a few requirements but nothing hard.
These hibiscus need full sun to filtered light in our hot summer afternoons. Water them regularly but don't let them get soggy. A very important requirement is fertilizer. Hibiscus really need their own food. These plants originate from volcanic regions which are high in potassium. Potassium is the third number on your fertilizer container. Maas carries food specifically for hibiscus to meet the unique nutrient requirements of these plants. I use granular food because it is easy. Water your hibiscus a little first, sprinkle the food around the plant and water again to start the feeding. Slow release fertilizers will feed the plant every time you water. Do this for your hibiscus every month or more during the blooming season. My hibiscus in pots get fed every two weeks.
The only real issue with hibiscus is they are not freeze hardy. Bring your hibiscus pots in if the temperature gets to the low thirties. For hibiscus planted outside use Insulate cover over the plants and secure it to the ground with rocks. Do not use plastic as this will burn the plants and bed sheets sometimes are not enough cover. One of my colleagues at Maas is very clever. She uses cotton backed plastic picnic table cloths to prevent freezing hibiscus. The cotton side goes on the plants. She says they work great. If after all your precautions your plants still freeze, do not pull them up immediately. I have had hibiscus come back from the dead several times because the roots did not freeze. In spring, cut the dead plants back to the ground and wait. Miracles do happen.
Sometimes hibiscus get pests or fungus. Treat your hibiscus with Triple Action when this happens. It is an organic pesticide and fungicide all in one that does the trick every time. Spray your plants when you first notice the problem, Don't let the bugs get out of hand.
There are so many beautiful pictures of hibiscus from the nursery. Here are some examples of the colors and varieties Maas carries. If you want a special variety, call before coming. Our stock changes daily. My advice is come to the nursery and see what we have. It's a fun outing and the hibiscus won't disappoint!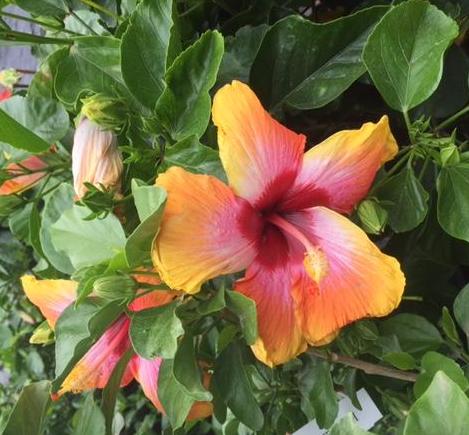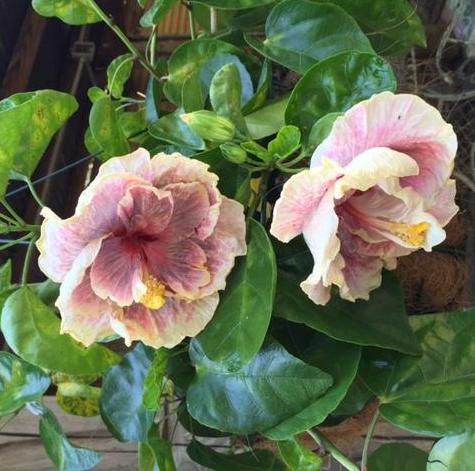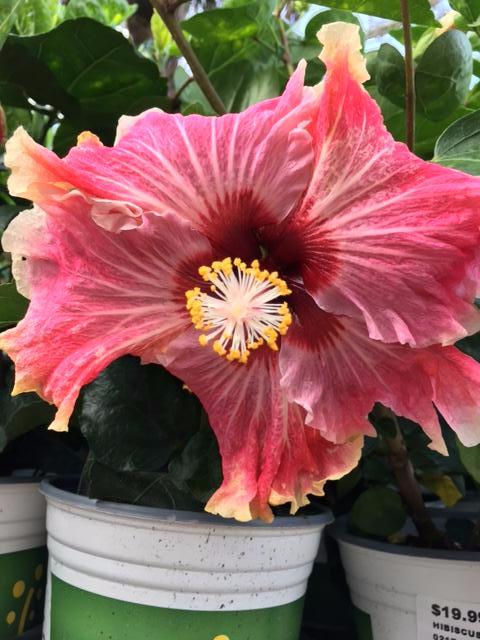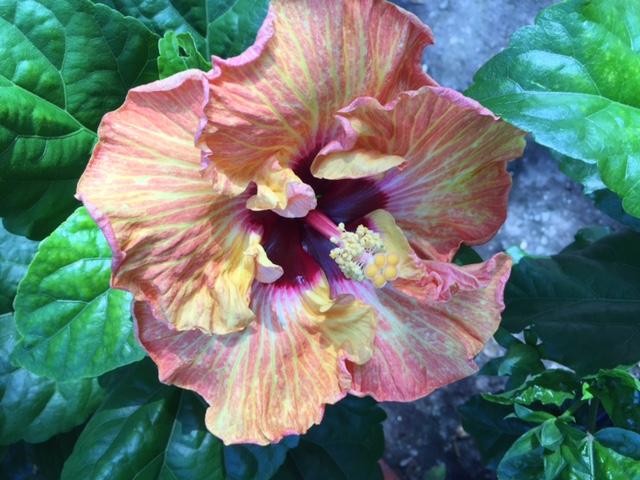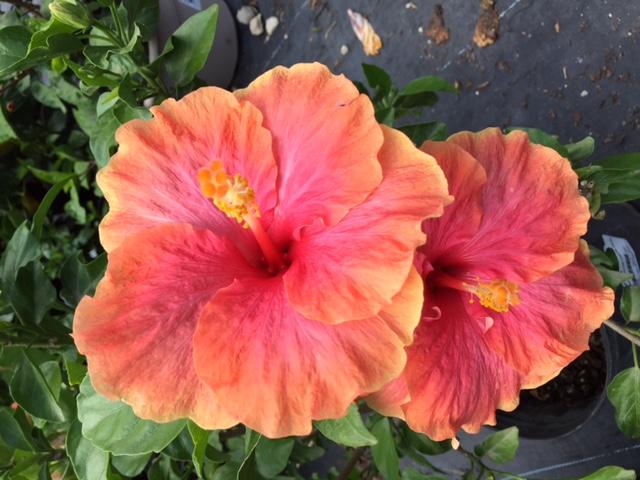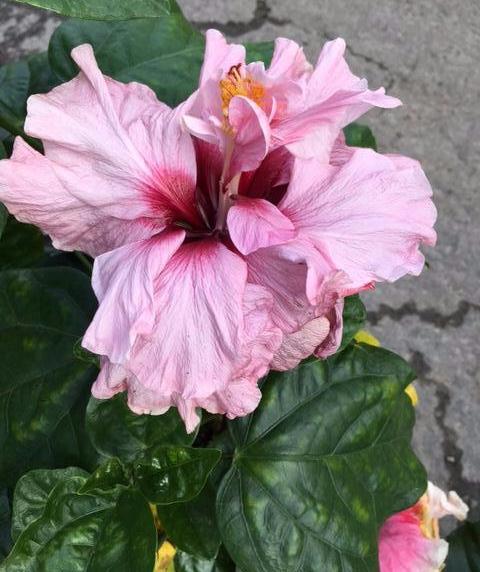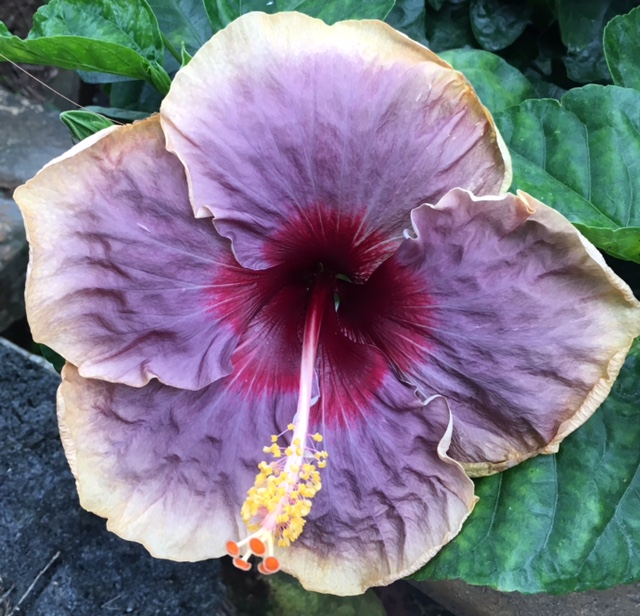 Interested in Elephant Ears?
Are you looking for an interesting tropical plant for that spot in your yard that doesn't drain well? Or perhaps you're looking for a striking plant for a container or water garden. Take a look at the many elephant ear varieties available, a group of tropical perennials grown for their large heart-shaped leaves, for both sun or shade.
Elephant ears belong to the family Araceae, as do caladiums, and can either be from the genera Colocasia (Taro) or Alocasia, native to tropical Asia and Pacific islands, or Xanthosoma, native to tropical America. All are grown year-round in more tropical areas but die back and go dormant during our zone 9 winters.
Colocasia varieties, perennial in USDA zones 8-11, prefer full sun and wet soil, and can tolerate standing water.
These can make an attractive addition to any water garden. The plants grow from tubers or corms, with propagation by division only. Alternately, Alocasia varieties, perennial in zones 8b-11, prefer shade or part sun with frequent watering in well-drained soil. Grown from both tubers and rhizomes (underground creeping rootstalks), both can be used for propagation of new plants.
By appearance, Colocasia varieties can be identified by their downward pointing leaf tips, with leaves extending from long petioles (succulent stems) coming directly from the corm and attaching near the middle of the lower surface of the leaf. Alocasia and Xanthosoma leaf tips point outward and upward generally, with the petioles attaching at the base of the leaf.
The plants do well in pots with lots of organic matter mixed into the soil and appreciate regular watering. Many varieties of the Colocasia genus are wetland plants that can also be featured in water gardens, but Alocasia varieties prefer well drained soil. Both varieties do well in part shade to sun with some protection, but the darker purple-leaved types especially enjoy full sun. In beds, elephant ears can be planted en masse, or play well with other striking tropicals like cannas, criniums, or bananas. Coleus and caladiums also make good planting companions.
Many elephant ear species have traditionally been grown as a staple food for the edible starchy corms or tubers.
The Hawaiians pound the cooked taro (Colocasia esculenta) tubers into a paste known as poi and use the leaves to wrap fillings like chicken or fish that are then steamed. (All parts of the plant contain calcium oxalate crystals, and uncooked, will cause stomach upset if consumed; sap can be a skin irritant.)
Some fantastic Colocasia selections at Maas Nursery include Black Coral, a clumping variety with deep purple leaves, growing 3 to 4 feet tall and wide, and Hawaiian Punch, a clumper with small 8-inch-long green leaves and bright red stems. Alocasia selections include the Yucatan Princess, a dark green leafed beauty with burgundy stems that grows 6 to 8 feet tall and 4 to 5 feet wide, or the large similarly sized Portadora with dramatic ribbed leaves. We also carry Lime Zinger, a bright chartreuse Xanthosoma variety growing 2 to 4 feet tall and 1.5 to 3 feet wide that will brighten up any planting area.
Let's Talk About May, 2017
By: Pat Cordray
So, we couldn't slow the train down at all and now it is May!!! We all know what happens this month, don't we? The good news first; there are blooms. I must admit that I don't have as many blooms on plants as last year, the freeze took care of that for me. But, my
almond verbena did not mind the cold and it is blooming and smelling fine as we speak. If you are not familiar with this plant, it is a shrub/small tree, with tiny white flowers that smell like
sweet almond. This is not the most beautiful plant but wow, the fragrance is spectacular! My camellias were also full of beautiful blooms this year, my First Love Gardenia has huge buds t
hat are about to explode and this has been a great year for my grand duke jasmine, I have never had so many blooms. Now the bad news. Okay, I won't dally any longer, you know what else May brings us? It is the same every year; heat, humidity, and bugs.
I noticed quite a few of my plants just didn't bloom this spring. My forest pansy redbud just had a couple of blossoms. No pink jasmine blooms. No iris blooms. Everything has green leaves now, so these plants are healthy. This just wasn't their year.
May's gardening list starts with helping those blooming plants by fertilizing them now. Azaleas and camellias can be fertilized now. Do you have bulbs in the ground? You can fertilize them also. If you have planted annuals you may need to fertilize them to help keep them blooming. Don't forget to feed your crape myrtles too. They bloom all summer for us so let's help them out now. I like Microlife 6-2-4 for all my plants, from my lawn to my trees and from my shrubs to my flowering plants. Microlife is easy to use, just spread it around your plants and water it in. It is simple and I don't have to worry if I touch it or if my granddaughter runs barefoot in my lawn. Microlife is fortified with: Alfalfa, fish meal, kelp meal, soy meal, wheat middling's, rock phosphate, bat guano, potassium sulfate, iron sulfate, sulfate of potash magnesia, humates, molasses, corn meal, cottonseed meal, homogenized with 2% Fe, 70 trace minerals, enzymes and beneficial microorganisms, including Endo and Ecto Mycorrhizal fungi. This is what to use to get that soil healthy and if your soil is healthy your plants will be too.
May is also a time to change out some of the fall to spring plants for more summer hardy plants. Some of the best color plants for the summer sun are coreopsis, Gomphrena, cone flower, Mexican heather, all kinds of salvia,
vinca (have you seen how big the Nirvana vinca flowers are?), blue daze, scaevola, angelonia, coleus, pentas, etc. These plants seem to love our heat and sun. They will bloom for the season and on into the fall & winter as long it is warm. Many of these are perennials so they may last for several years with the proper care.
| | |
| --- | --- |
| | |
| Whopper Begonia | |
For part sun (am sun only) to shade areas plant color here too. Torenia, coleus, shrimp plant, mona lavender, Persian shield, caladiums, Pigeonberry, begonia, impatiens, jacobinia, crossandras, columbine, Ajuga, snow-N -summer asiatic jasmine. These plants make a shady area more inviting. Help your plants bloom more with great soil and care.
Vegetables anyone? Yes, there is still time to plant. Okra, eggplant,
cantaloupe, Swiss chard, cucumbers, watermelons, squash, peas, pumpkins can be added to your garden now. I have had fun with vegetables this year. I have already harvested potatoes, Swiss chard, and onions and I am looking forward to picking my zucchini, peas, beans, tomatoes, cantaloupe and watermelon, yum.
One more thing, water. Most plants need water regularly. As we get warmer, more water is needed but not so much that water is running down the street. Watering also gives you a chance to check your plants for signs of pests and to prevent problems from spreading. Good soil, the right amount of sun and the right food makes for happy plants.
Take the time to enjoy your garden,
Pat
Deb Pavlosky
"Smell is a potent wizard that transports you across thousands of miles and all the years you have lived." – Helen Keller
When most people think of fragrant flowers, I would assume roses come first to mind. Roses have such a wide array of colors and bloom types and growing habits and, yes, also fragrance. So, though Shakespeare wants us to believe differently, a rose by any other name does not necessarily smell as sweet. Actually, there are roses with no scent at all. Peggy Martin is one very popular variety of pink climbing rose that has no scent.  So, if you are trying to grow fragrant plants, and you are planning to use roses, be sure to smell the blooms before you purchase your plants. Also, check the temperature and time of day when you sniff the blooms. Some roses have stronger scents in cooler weather and some have stronger scents in the mornings. So, do a little research before picking your roses.
The following are just a few fragrant rose varieties that you can find at Maas Nursery.
Fragrant Cloud – Coral or red orange blooms, Strong sweet spice and rose scent
Double Delight – Red blooms with cream interior, Strong spicy rose scent
Don Juan – Red climbing rose, Strong rose scent
Cecile Brunner – Pink Climbing rose, Moderate tea scent
Mister Lincoln – Velvety, deep red blooms, Strong Damask rose scent
   Bulls Eye – Cream or Ivory flowers with cranberry centers, Moderate sweet spice scent
   White Licorice – Yellow blooms (more yellow when cool), Licorice and lemon scent
Belinda's Dream – Pink blooms, Moderate fruity scent
      Iceberg – White blooms, Mild honey scent
Beyond roses, there are many choices of very fragrant plants to use in your landscape.
More choices to add fragrance to your garden:
Annuals:
Flowering Tobacco – This plant is also known as flowering tobacco. Grows to 48″ in sun to part shade. Can bloom all year and blooms range in colors including white and pink.
Stock (this one likes cool weather) – Stock blooms in a variety of colors (pink, purple, white) in spring. Grows well in sun to part shade.
Sweet Alyssum – This plant blooms in clusters of very fragrant flowers (colors can be white, pink or purple). This annual is a prolific bloomer all year and some varieties can be grown as short-lived perennials.
Perennials/Shrubs:
Banana Shrub – Creamy-yellow flowers that have a banana scent.   This shrub blooms
| | |
| --- | --- |
| | |
| | Frost Proof Gardenia |
during the warm seasons. Slow growing, 6′-10′ tall and wide. Part to full sun.
Brunfelsia – Also known as Yesterday, Today and Tomorrow. Very fragrant purple flowers fade to violet and then white over a period of days. Some varieties only grow to 4′ tall and wide and others 3′ to 8′ tall and 4′ -6′ wide. Part sun.
Buddleia – Also known as Butterfly Bush. Most varieties are purple flowering and bloom summer through fall. Butterfly bush ranges in size from 3′ to 7′ tall and 3′ to 5′ wide. Full sun.
Butterfly Ginger – This ginger blooms white from mid summer to early fall. Best grown in sun to part shade. This ginger will grow 4′ to 6′ tall.
Crape Jasmine – White blooms through spring and summer. Fragrance is stronger in the evening. Can grow to 6′ to 8′ tall and wide. Part to full sun.
Gardenias – There are many varieties of Gardenias and they range in size from Radicans (6″ to 12″ tall and 2′ to 3′ wide) to First Love (5′ to 8′ tall and 3′ to 6′ wide). First Love blooms late spring through early summer, Radicans and Frost Proof bloom in the summer and August Beauty blooms through spring through fall. Most people are familiar with the stark white blooms and amazing fragrance of gardenias.
Geraniums (lemon scented) – Blooms in summer with light pink to purple flowers. It's the foliage with the lemon scent that you smell. Grows 18″ high and wide. Part to full sun.
Heliotrope – Can be perennial, but mostly grown as an annual. Purple flowers with intense fragrance that bloom spring through summer. Part to full sun.
Mock Orange – Blooms white flowers in April and May. Can grow to 6′ to 8′ tall and wide. Full to part sun. This shrub is deciduous.
Natal Plum– White flowers are very fragrant and this plant will bloom all year in sun to part shade.   Fruits will form on this plant, but leaves and flowers are poisonous.
Night Blooming Jessamine (aka Night blooming cestrum or night blooming jasmine) – Very small greenish white flowers bloom in the summer. Grows to 8′ to 10′ tall and 3′ wide. Part to full sun. Blossoms only open at night.
Pineapple Sage (Tender perennial) – Blooms, showy red flowers in late spring to fall. The foliage has a pineapple scent and can be used in drinks and foods. Grows 3′ to 4′ tall and wide. Full sun.
Pittosporum – Pittosporum shrubs bloom with very small clusters of orang-blossom scented flowers in spring. The Japanese Mock Orange variety can grow to 10′ to 12′ tall and wide.   The Variegated Japanese Mock Orange grows 6′ to 8′ tall and wide or even larger with age. Wheeler's Dwarf Pittosporum grows 2′ to 3′ tall and 4′ to 5′ wide. All like part to full sun.
Sweet Olive – Small white blooms in the spring that are very fragrant. This plant likes morning sun and afternoon shade. It can grow to 10′ tall if un-pruned.
Viburnums– Eastern snowball viburnum blooms masses of white flowers though summer. It will grow 12′ tall and 10′ wide or larger with age. This shrub requires part to full sun. This shrub is deciduous.
Vines:
Arabian Jasmine (can be considered a shrub as well) – The fragrant white flowers open at night and bloom June through September. This plant will reach 6′ to 8′ tall and 3′ to 4′ wide. Part to full sun.
Carolina Jessamine – Blooms bright yellow flowers in late winter to early spring. This vine will grow to 20′ with support. Part to full sun.
Confederate or Star Jasmine – Very fragrant white flowers from spring to summer. This vine can reach 18′ to 20′ with support or 1′ to 2′ as groundcover. Part to full sun.
Honeysuckle – Hall's Japanese Honeysuckle has white to yellow flowers that bloom in the summer. This plant can be grown as a vine to 15′ tall or groundcover to 2′ tall. Full sun. Trumpet Honeysuckle has trumpet-shaped scarlet-orange flowers and blooms spring through fall. It grows fast to 20′ long. Part to full sun.
Passion vine – The incense variety blooms violet to lavender from late spring to early fall in sun to part shade. This vine can grow to 10′ long.
Pink Jasmine – Very fragrant light pink flowers spring to early summer. Will grow to 20′ long. Full sun.
Rangoon Creeper– Also known as Drunken Sailor, this plant blooms in clusters of red flowers that fade to pink from late spring to mid fall. Can grow to more than 40′ in sun to part shade. This is a tender perennial.
Wisteria – The Texas Purple Japanese Wisteria blooms purple flower clusters in the spring.   This is a fast growing, deciduous vine that will grow to 25′ long. This vine likes full sun. Amethyst Falls Wisteria is also deciduous and will to 10′ long. This vine blooms with purple racemes in late spring and repeats lightly through summer. This vine likes part to full sun. Evergreen Wisteria blooms late summer to early fall and will grow to 15′ long in full sun. Evergreen Wisteria has been described as having a camphor-like scent.
Trees:
Angels Trumpet – These small trees can grow in sun to part shade. Blooms can be pink, white, yellow or orange and appear from summer to early fall. They usually grow 6′ to 8′ tall and these are poisonous plants. Angels Trumpet flowers are most fragrant in the early evening.
Citrus – All varieties of citrus trees produce fragrant flowers before they fruit.
Magnolia – Brackens Brown Beauty is a moderate grower to 50′ tall and 30′ wide in full sun. This variety blooms in late spring. The creamy white flowers are very fragrant. Sweet Bay Magnolias are moderate growers to 20′ tall and wide in part sun. The creamy-white, lemon scented flowers appear through the summer.
Mexican Plum – This tree will grow 15′ to 35′ and blooms fragrant white flowers before leaves appear. This tree does well in full sun.
Texas Mountain Laurel – This small shrub or tree blooms purple blooms in the spring that smell like grape soda. This plant prefers full sun and is slow growing to 10′ to 15′ tall and 8′ to 10′ wide. Can also be trained on an espalier or grown as a patio tree. Once established, it will only need occasional watering.
These are just a few options for adding fragrance to your garden. There are so many more….
Spring is here and I am looking forward to the aromas of freshly mowed grass and sweet smelling blooms. Time to add some sweet-smelling plants to your garden too.