Uncategorized
Lantana Lace Bug (Teleonemia scrupulosa) is a destructive pest that does extensive damage on lantana. Lace Bug feeds on the underside of the leaves and newly opened blooms. The damage can prevent new blooms and even leaf dropping. It's easy to identify if you have this pest in your yard. The upper side of the leaves will be white from the chlorophyll being drained out and the underside of the leaf will have black spots of waste.  The edges of the leaves may also brown and curl. The extreme amount of damage this insect can inflict is so detrimental that it has been imported to countries where lantana is a noxious weed as a form of control.
Methods of treatment include light horticultural oil, insecticidal soap, neem and spinosad.
Predatory insects, such as lacewings, may also be used as a control.
I admit it. I am a compulsive plant collector. I collect native plants, heirloom vegetables, antique roses and all kinds of salvia. My new obsession… tropical hibiscus.They are the most showy, colorful, stunning, spectacular plants and flowers in the world! (in my opinion) And the fun part is growing them is easy. Tropical hibiscus have a few requirements but nothing hard.
These hibiscus need full sun to filtered light in our hot summer afternoons. Water them regularly but don't let them get soggy. A very important requirement is fertilizer. Hibiscus really need their own food. These plants originate from volcanic regions which are high in potassium. Potassium is the third number on your fertilizer container. Maas carries food specifically for hibiscus to meet the unique nutrient requirements of these plants. I use granular food because it is easy. Water your hibiscus a little first, sprinkle the food around the plant and water again to start the feeding. Slow release fertilizers will feed the plant every time you water. Do this for your hibiscus every month or more during the blooming season. My hibiscus in pots get fed every two weeks.
The only real issue with hibiscus is they are not freeze hardy. Bring your hibiscus pots in if the temperature gets to the low thirties. For hibiscus planted outside use Insulate cover over the plants and secure it to the ground with rocks. Do not use plastic as this will burn the plants and bed sheets sometimes are not enough cover. One of my colleagues at Maas is very clever. She uses cotton backed plastic picnic table cloths to prevent freezing hibiscus. The cotton side goes on the plants. She says they work great. If after all your precautions your plants still freeze, do not pull them up immediately. I have had hibiscus come back from the dead several times because the roots did not freeze. In spring, cut the dead plants back to the ground and wait. Miracles do happen.
Sometimes hibiscus get pests or fungus. Treat your hibiscus with Triple Action when this happens. It is an organic pesticide and fungicide all in one that does the trick every time. Spray your plants when you first notice the problem, Don't let the bugs get out of hand.
There are so many beautiful pictures of hibiscus from the nursery. Here are some examples of the colors and varieties Maas carries. If you want a special variety, call before coming. Our stock changes daily. My advice is come to the nursery and see what we have. It's a fun outing and the hibiscus won't disappoint!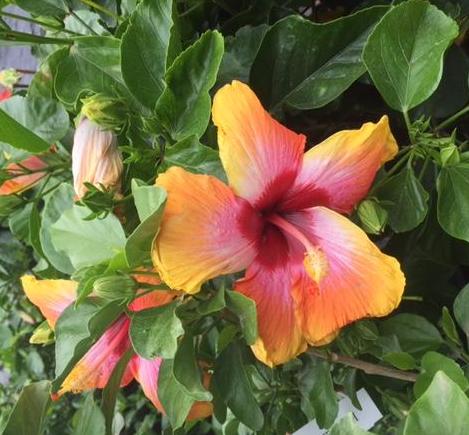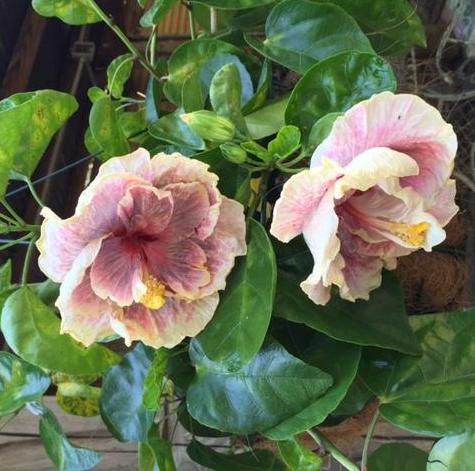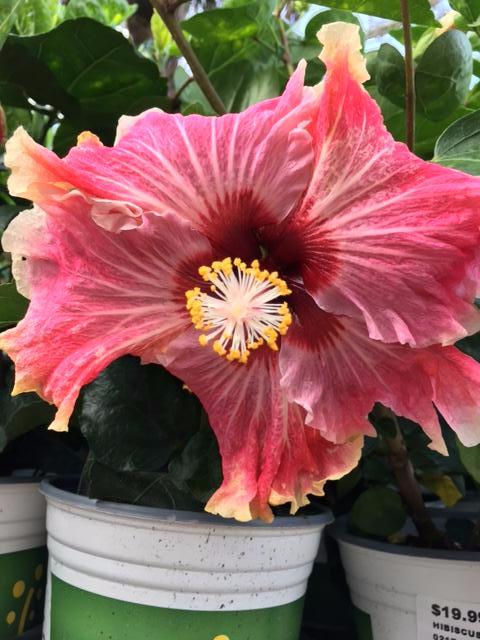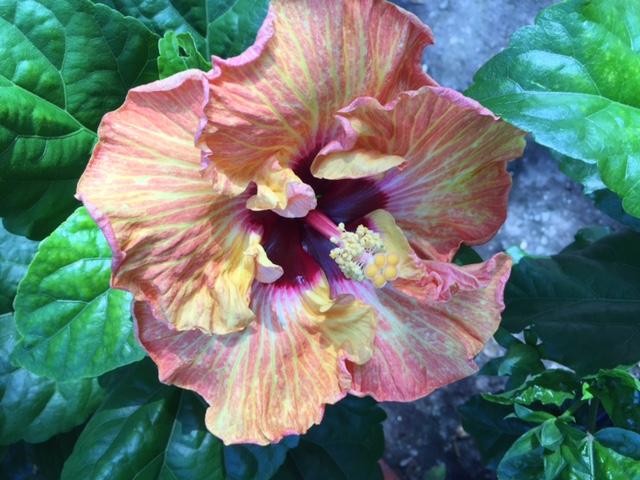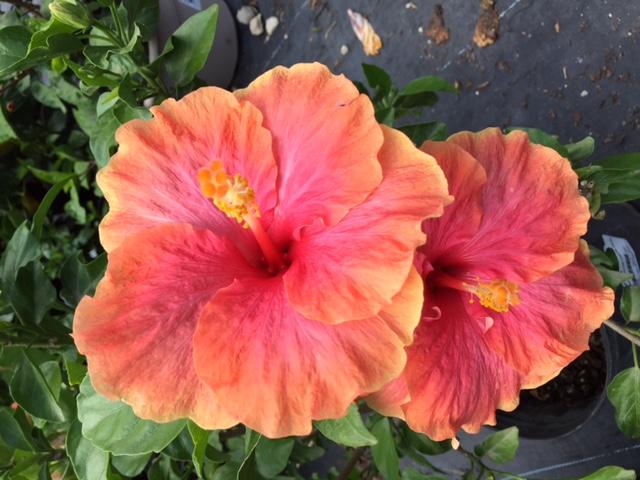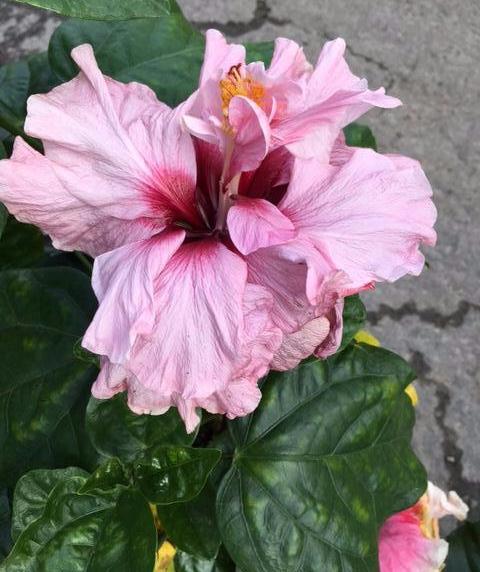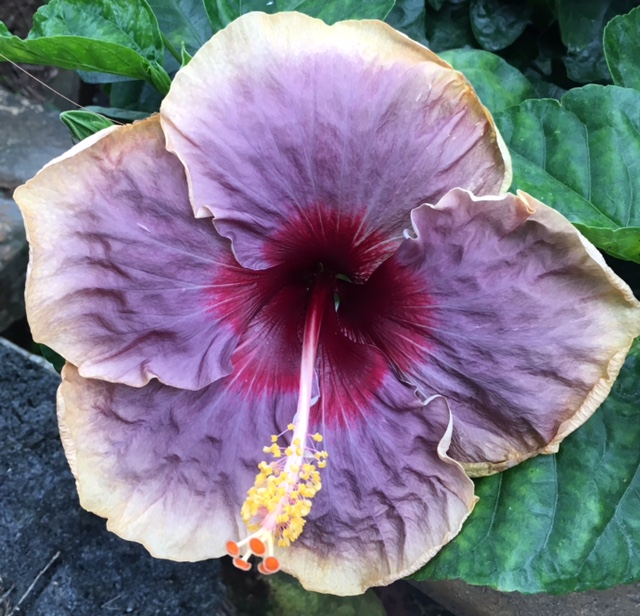 Interested in Elephant Ears?
Are you looking for an interesting tropical plant for that spot in your yard that doesn't drain well? Or perhaps you're looking for a striking plant for a container or water garden. Take a look at the many elephant ear varieties available, a group of tropical perennials grown for their large heart-shaped leaves, for both sun or shade.
Elephant ears belong to the family Araceae, as do caladiums, and can either be from the genera Colocasia (Taro) or Alocasia, native to tropical Asia and Pacific islands, or Xanthosoma, native to tropical America. All are grown year-round in more tropical areas but die back and go dormant during our zone 9 winters.
Colocasia varieties, perennial in USDA zones 8-11, prefer full sun and wet soil, and can tolerate standing water.
These can make an attractive addition to any water garden. The plants grow from tubers or corms, with propagation by division only. Alternately, Alocasia varieties, perennial in zones 8b-11, prefer shade or part sun with frequent watering in well-drained soil. Grown from both tubers and rhizomes (underground creeping rootstalks), both can be used for propagation of new plants.
By appearance, Colocasia varieties can be identified by their downward pointing leaf tips, with leaves extending from long petioles (succulent stems) coming directly from the corm and attaching near the middle of the lower surface of the leaf. Alocasia and Xanthosoma leaf tips point outward and upward generally, with the petioles attaching at the base of the leaf.
The plants do well in pots with lots of organic matter mixed into the soil and appreciate regular watering. Many varieties of the Colocasia genus are wetland plants that can also be featured in water gardens, but Alocasia varieties prefer well drained soil. Both varieties do well in part shade to sun with some protection, but the darker purple-leaved types especially enjoy full sun. In beds, elephant ears can be planted en masse, or play well with other striking tropicals like cannas, criniums, or bananas. Coleus and caladiums also make good planting companions.
Many elephant ear species have traditionally been grown as a staple food for the edible starchy corms or tubers.
The Hawaiians pound the cooked taro (Colocasia esculenta) tubers into a paste known as poi and use the leaves to wrap fillings like chicken or fish that are then steamed. (All parts of the plant contain calcium oxalate crystals, and uncooked, will cause stomach upset if consumed; sap can be a skin irritant.)
Some fantastic Colocasia selections at Maas Nursery include Black Coral, a clumping variety with deep purple leaves, growing 3 to 4 feet tall and wide, and Hawaiian Punch, a clumper with small 8-inch-long green leaves and bright red stems. Alocasia selections include the Yucatan Princess, a dark green leafed beauty with burgundy stems that grows 6 to 8 feet tall and 4 to 5 feet wide, or the large similarly sized Portadora with dramatic ribbed leaves. We also carry Lime Zinger, a bright chartreuse Xanthosoma variety growing 2 to 4 feet tall and 1.5 to 3 feet wide that will brighten up any planting area.
Let's Talk About May, 2017
By: Pat Cordray
So, we couldn't slow the train down at all and now it is May!!! We all know what happens this month, don't we? The good news first; there are blooms. I must admit that I don't have as many blooms on plants as last year, the freeze took care of that for me. But, my
almond verbena did not mind the cold and it is blooming and smelling fine as we speak. If you are not familiar with this plant, it is a shrub/small tree, with tiny white flowers that smell like
sweet almond. This is not the most beautiful plant but wow, the fragrance is spectacular! My camellias were also full of beautiful blooms this year, my First Love Gardenia has huge buds t
hat are about to explode and this has been a great year for my grand duke jasmine, I have never had so many blooms. Now the bad news. Okay, I won't dally any longer, you know what else May brings us? It is the same every year; heat, humidity, and bugs.
I noticed quite a few of my plants just didn't bloom this spring. My forest pansy redbud just had a couple of blossoms. No pink jasmine blooms. No iris blooms. Everything has green leaves now, so these plants are healthy. This just wasn't their year.
May's gardening list starts with helping those blooming plants by fertilizing them now. Azaleas and camellias can be fertilized now. Do you have bulbs in the ground? You can fertilize them also. If you have planted annuals you may need to fertilize them to help keep them blooming. Don't forget to feed your crape myrtles too. They bloom all summer for us so let's help them out now. I like Microlife 6-2-4 for all my plants, from my lawn to my trees and from my shrubs to my flowering plants. Microlife is easy to use, just spread it around your plants and water it in. It is simple and I don't have to worry if I touch it or if my granddaughter runs barefoot in my lawn. Microlife is fortified with: Alfalfa, fish meal, kelp meal, soy meal, wheat middling's, rock phosphate, bat guano, potassium sulfate, iron sulfate, sulfate of potash magnesia, humates, molasses, corn meal, cottonseed meal, homogenized with 2% Fe, 70 trace minerals, enzymes and beneficial microorganisms, including Endo and Ecto Mycorrhizal fungi. This is what to use to get that soil healthy and if your soil is healthy your plants will be too.
May is also a time to change out some of the fall to spring plants for more summer hardy plants. Some of the best color plants for the summer sun are coreopsis, Gomphrena, cone flower, Mexican heather, all kinds of salvia,
vinca (have you seen how big the Nirvana vinca flowers are?), blue daze, scaevola, angelonia, coleus, pentas, etc. These plants seem to love our heat and sun. They will bloom for the season and on into the fall & winter as long it is warm. Many of these are perennials so they may last for several years with the proper care.
| | |
| --- | --- |
| | |
| Whopper Begonia | |
For part sun (am sun only) to shade areas plant color here too. Torenia, coleus, shrimp plant, mona lavender, Persian shield, caladiums, Pigeonberry, begonia, impatiens, jacobinia, crossandras, columbine, Ajuga, snow-N -summer asiatic jasmine. These plants make a shady area more inviting. Help your plants bloom more with great soil and care.
Vegetables anyone? Yes, there is still time to plant. Okra, eggplant,
cantaloupe, Swiss chard, cucumbers, watermelons, squash, peas, pumpkins can be added to your garden now. I have had fun with vegetables this year. I have already harvested potatoes, Swiss chard, and onions and I am looking forward to picking my zucchini, peas, beans, tomatoes, cantaloupe and watermelon, yum.
One more thing, water. Most plants need water regularly. As we get warmer, more water is needed but not so much that water is running down the street. Watering also gives you a chance to check your plants for signs of pests and to prevent problems from spreading. Good soil, the right amount of sun and the right food makes for happy plants.
Take the time to enjoy your garden,
Pat
Deb Pavlosky
"Smell is a potent wizard that transports you across thousands of miles and all the years you have lived." – Helen Keller
When most people think of fragrant flowers, I would assume roses come first to mind. Roses have such a wide array of colors and bloom types and growing habits and, yes, also fragrance. So, though Shakespeare wants us to believe differently, a rose by any other name does not necessarily smell as sweet. Actually, there are roses with no scent at all. Peggy Martin is one very popular variety of pink climbing rose that has no scent.  So, if you are trying to grow fragrant plants, and you are planning to use roses, be sure to smell the blooms before you purchase your plants. Also, check the temperature and time of day when you sniff the blooms. Some roses have stronger scents in cooler weather and some have stronger scents in the mornings. So, do a little research before picking your roses.
The following are just a few fragrant rose varieties that you can find at Maas Nursery.
Fragrant Cloud – Coral or red orange blooms, Strong sweet spice and rose scent
Double Delight – Red blooms with cream interior, Strong spicy rose scent
Don Juan – Red climbing rose, Strong rose scent
Cecile Brunner – Pink Climbing rose, Moderate tea scent
Mister Lincoln – Velvety, deep red blooms, Strong Damask rose scent
   Bulls Eye – Cream or Ivory flowers with cranberry centers, Moderate sweet spice scent
   White Licorice – Yellow blooms (more yellow when cool), Licorice and lemon scent
Belinda's Dream – Pink blooms, Moderate fruity scent
      Iceberg – White blooms, Mild honey scent
Beyond roses, there are many choices of very fragrant plants to use in your landscape.
More choices to add fragrance to your garden:
Annuals:
Flowering Tobacco – This plant is also known as flowering tobacco. Grows to 48″ in sun to part shade. Can bloom all year and blooms range in colors including white and pink.
Stock (this one likes cool weather) – Stock blooms in a variety of colors (pink, purple, white) in spring. Grows well in sun to part shade.
Sweet Alyssum – This plant blooms in clusters of very fragrant flowers (colors can be white, pink or purple). This annual is a prolific bloomer all year and some varieties can be grown as short-lived perennials.
Perennials/Shrubs:
Banana Shrub – Creamy-yellow flowers that have a banana scent.   This shrub blooms
| | |
| --- | --- |
| | |
| | Frost Proof Gardenia |
during the warm seasons. Slow growing, 6′-10′ tall and wide. Part to full sun.
Brunfelsia – Also known as Yesterday, Today and Tomorrow. Very fragrant purple flowers fade to violet and then white over a period of days. Some varieties only grow to 4′ tall and wide and others 3′ to 8′ tall and 4′ -6′ wide. Part sun.
Buddleia – Also known as Butterfly Bush. Most varieties are purple flowering and bloom summer through fall. Butterfly bush ranges in size from 3′ to 7′ tall and 3′ to 5′ wide. Full sun.
Butterfly Ginger – This ginger blooms white from mid summer to early fall. Best grown in sun to part shade. This ginger will grow 4′ to 6′ tall.
Crape Jasmine – White blooms through spring and summer. Fragrance is stronger in the evening. Can grow to 6′ to 8′ tall and wide. Part to full sun.
Gardenias – There are many varieties of Gardenias and they range in size from Radicans (6″ to 12″ tall and 2′ to 3′ wide) to First Love (5′ to 8′ tall and 3′ to 6′ wide). First Love blooms late spring through early summer, Radicans and Frost Proof bloom in the summer and August Beauty blooms through spring through fall. Most people are familiar with the stark white blooms and amazing fragrance of gardenias.
Geraniums (lemon scented) – Blooms in summer with light pink to purple flowers. It's the foliage with the lemon scent that you smell. Grows 18″ high and wide. Part to full sun.
Heliotrope – Can be perennial, but mostly grown as an annual. Purple flowers with intense fragrance that bloom spring through summer. Part to full sun.
Mock Orange – Blooms white flowers in April and May. Can grow to 6′ to 8′ tall and wide. Full to part sun. This shrub is deciduous.
Natal Plum– White flowers are very fragrant and this plant will bloom all year in sun to part shade.   Fruits will form on this plant, but leaves and flowers are poisonous.
Night Blooming Jessamine (aka Night blooming cestrum or night blooming jasmine) – Very small greenish white flowers bloom in the summer. Grows to 8′ to 10′ tall and 3′ wide. Part to full sun. Blossoms only open at night.
Pineapple Sage (Tender perennial) – Blooms, showy red flowers in late spring to fall. The foliage has a pineapple scent and can be used in drinks and foods. Grows 3′ to 4′ tall and wide. Full sun.
Pittosporum – Pittosporum shrubs bloom with very small clusters of orang-blossom scented flowers in spring. The Japanese Mock Orange variety can grow to 10′ to 12′ tall and wide.   The Variegated Japanese Mock Orange grows 6′ to 8′ tall and wide or even larger with age. Wheeler's Dwarf Pittosporum grows 2′ to 3′ tall and 4′ to 5′ wide. All like part to full sun.
Sweet Olive – Small white blooms in the spring that are very fragrant. This plant likes morning sun and afternoon shade. It can grow to 10′ tall if un-pruned.
Viburnums– Eastern snowball viburnum blooms masses of white flowers though summer. It will grow 12′ tall and 10′ wide or larger with age. This shrub requires part to full sun. This shrub is deciduous.
Vines:
Arabian Jasmine (can be considered a shrub as well) – The fragrant white flowers open at night and bloom June through September. This plant will reach 6′ to 8′ tall and 3′ to 4′ wide. Part to full sun.
Carolina Jessamine – Blooms bright yellow flowers in late winter to early spring. This vine will grow to 20′ with support. Part to full sun.
Confederate or Star Jasmine – Very fragrant white flowers from spring to summer. This vine can reach 18′ to 20′ with support or 1′ to 2′ as groundcover. Part to full sun.
Honeysuckle – Hall's Japanese Honeysuckle has white to yellow flowers that bloom in the summer. This plant can be grown as a vine to 15′ tall or groundcover to 2′ tall. Full sun. Trumpet Honeysuckle has trumpet-shaped scarlet-orange flowers and blooms spring through fall. It grows fast to 20′ long. Part to full sun.
Passion vine – The incense variety blooms violet to lavender from late spring to early fall in sun to part shade. This vine can grow to 10′ long.
Pink Jasmine – Very fragrant light pink flowers spring to early summer. Will grow to 20′ long. Full sun.
Rangoon Creeper– Also known as Drunken Sailor, this plant blooms in clusters of red flowers that fade to pink from late spring to mid fall. Can grow to more than 40′ in sun to part shade. This is a tender perennial.
Wisteria – The Texas Purple Japanese Wisteria blooms purple flower clusters in the spring.   This is a fast growing, deciduous vine that will grow to 25′ long. This vine likes full sun. Amethyst Falls Wisteria is also deciduous and will to 10′ long. This vine blooms with purple racemes in late spring and repeats lightly through summer. This vine likes part to full sun. Evergreen Wisteria blooms late summer to early fall and will grow to 15′ long in full sun. Evergreen Wisteria has been described as having a camphor-like scent.
Trees:
Angels Trumpet – These small trees can grow in sun to part shade. Blooms can be pink, white, yellow or orange and appear from summer to early fall. They usually grow 6′ to 8′ tall and these are poisonous plants. Angels Trumpet flowers are most fragrant in the early evening.
Citrus – All varieties of citrus trees produce fragrant flowers before they fruit.
Magnolia – Brackens Brown Beauty is a moderate grower to 50′ tall and 30′ wide in full sun. This variety blooms in late spring. The creamy white flowers are very fragrant. Sweet Bay Magnolias are moderate growers to 20′ tall and wide in part sun. The creamy-white, lemon scented flowers appear through the summer.
Mexican Plum – This tree will grow 15′ to 35′ and blooms fragrant white flowers before leaves appear. This tree does well in full sun.
Texas Mountain Laurel – This small shrub or tree blooms purple blooms in the spring that smell like grape soda. This plant prefers full sun and is slow growing to 10′ to 15′ tall and 8′ to 10′ wide. Can also be trained on an espalier or grown as a patio tree. Once established, it will only need occasional watering.
These are just a few options for adding fragrance to your garden. There are so many more….
Spring is here and I am looking forward to the aromas of freshly mowed grass and sweet smelling blooms. Time to add some sweet-smelling plants to your garden too.
By: Pat Cordray
Whoa, whoa, whoa, let's slow this train down! It is already April and I still haven't finished all my garden clean up. I seem to work at a snail's pace; I have only completed parts of my front yard, and there is so much more to go…. ugh! At least there is still time to finish and get this yard in shape before summer. I want to be able to garden from the window by the time it gets too hot and the mosquitoes get big enough to start carrying people off, and that is very soon.
| | |
| --- | --- |
| | |
| Yalaha coleus | |
Gardening to be done in April:
Water. Now that is getting hotter we must water more. I'm especially talking about watering those newly planted plants. Sprinkler systems are great for established plants, but newly planted plants need water that is directed at the root ball. It's important to keep these roots moist and sprinklers may or may not get water to the root ball of a newly planted plant. Be careful to water your plants thoroughly, they will thrive and once established, you will be able to water less.
You may also need to water other plants, even the established ones, more often in the warmer weather. Just keep an eye on your garden and if you notice signs of stress like: leaf drop, brown leaves and/or bud drop, you should check to see if it is just a matter of watering the plant. Don't wait until there are limbs dying to check. With more sun, wind and less rain, plants will be thristy.
If your camellias have finished blooming, it is time to prune, if needed, and fertilize them. This helps the plant to have a better show of blooms next year. Azaleas can be fed and pruned as well. If you haven't cut back the winter damage to your garden plants, now is a good time to finish that.
April is a great month for vegetable gardening, you are not too late.   Plant beans, corn, cucumber, eggplant, okra, peppers, radish, squash, watermelon this month.  If you don't have time to get a garden ready, use containers to grow your vegetables. Once you have your seeds or transplants all, you need to grow your own food is good soil, good drainage and full sun.  Why not give it a try?
There are tons of blooming plants here at The nursery, with all kinds of options for you to
| | |
| --- | --- |
| | |
| | Super Elfin Impatiens |
add color to containers, landscapes, and even a couple for inside your home. For summer color in the shadier side of your garden try impatiens, begonia, Persian shield, coleus, heuchera, columbine, alstromeria, caladium, polka dot plant, ajuga, torenia, Mona lavender, cat whiskers, justicia, creeping Jenny, dichondra and many more. Brighten up your garden by bringing color to the shadier to part sun areas of your garden.
  For summer color in the sunnier areas of your garden, try these beautiful plants: blue daze, dianthus, petunias, celosia, cleome, coreopsis
| | |
| --- | --- |
| | |
| QIS Gomphrena | |
, cone flowers, rudbeckia, salvia, vinca, gomphrena, sun coleus, pentas, zinnias, cosmos, angelonia, calibrachoa, gazania, lantana, verbena, and more. These plants will give your garden or patio a colorful new look for the summer.
For indoors, we just received tons of house plants that are amazing. There are many types of Sanseveria like: Bantel's sensation, starfish, Mikado Fernwood, whaletail, cylindrical, etc. Sanseveria is a great indoor plant that doesn't require a lot of watering or attention to grow; truly an amazing plant. We also received some beautiful aglaonema, Chinese evergreen plant, varieties include Etta rose, sapphire Suzanne, Siam red, silver bay, and sparkling Sarah. These plants are an easy way to add beauty to any room.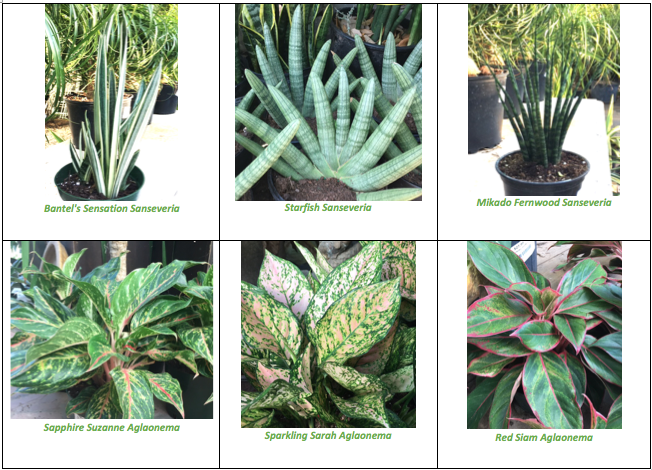 Come out and see these beautiful plants before they are gone.
Enjoy,
Pat
Snapdragons or Antirrhinum majus, are a beautiful way to add instant color to your flower beds. Snapdragons will give you months of color. If planted in early fall they should last until the weather gets hot. Snapdragons come in many sizes, colors, and shapes. They love full sun and regular watering.
Here are some varieties we carry:
Rocket – gets 3 feet tall, you might want to stake it, it comes in lots of color.
Solstice – gets 18″ tall with a dwarf bloom; this snapdragon comes in tons of colors.
Sonnet – gets 24″ tall with a large bloom, with lots of color choices
Montego – gets 12″ tall and is a multi bloomer, this is offered in solid colors and also bicolor.
Type: Annual
Season: Prefer cooler weather (our fall to spring).
Color: Many colors.
Garden habitat: Garden, container, hanging baskets.
Exposure: Full Sun.

Lobelia flowers can look like Honeysuckle or Salvia. This beautiful bloom comes in blue, purple, pink and white. Lobelia is great for sun or part shade and can be used in pots, as borders, or in the garden. A great choice for mixed containers
Plant Profile:
Type: Annual
Season: Fall and winter.
Color: Blue, pink, white, lavender.
Garden habitat: Garden, container, borders, hanging baskets, container spiller.
Exposure: Partial to Full Sun.
By: Pat Cordray
It is amazing how fast we make it through each year.  Here we are ready to celebrate the season with family and friends and hopefully we have some time for gardening this month.  But before we get to that, you know what I must do first, so here it is.   Freeze warning; If there is a freeze warning for our area, water your plants thoroughly; this protects the roots.  If your tender plants are in the ground cover them with fabric made for protecting plants, like N-Sulate, tent the fabric to the ground and secure it with pegs.  If your plants are in containers, follow the same instructions if you can't take them in.  If your tender plants are in hanging baskets, take them in or place them on the ground, water, and cover.  Remember that plants cannot create their own heat so tenting the fabric to the ground allows the warmth from the ground to protect them.  This will only give the plants a tad more warmth but it just might be enough to keep them alive during our winter.  Remove the fabric when the weather warms, possibly the next day.
This month, you may think that with winter approaching there may not be much gardening to do.  But that is just not true in our area.  You can still plant vegetables, shrubs, and trees.  For your vegetables, plant cauliflower, broccoli, green onions, Brussels sprouts, leeks, greens, and turnips, if those are the ones you like to eat. Plant any trees or shrubs that are hardy to this area.  For trees and shrubs, this is important for all plants, keep in mind the mature size so you don't plant something that is too big for the area.  Feed your trees and shrubs, hold off on your camellias and azaleas until after they finish blooming.  Don't cut anything back this time of year, wait for warmer weather.   Trim back your azaleas and camellias after they bloom.  Isn't it amazing to have so many gardening opportunities for the month of December.
For December, I'm still talking about bulbs, winter color, and camellias, my favorites!
Forcing ziva narcissus, amaryllis, and hyacinths is a great way to have fresh flowers in your home for beautiful color and fragrance indoors. This is a very simple project.  All you need is water or soil, bulbs, rocks/pebbles, and a pot without a drainage hole or a pot with a drainage hole.
First let's plant our bulbs in with the rocks and water.  Use the pot without a drainage hole.  Place the rocks in your container, you want room for the water and roots.  Place the bulbs on the rocks, then add the water, don't let the water touch the bulbs and don't let the bulbs touch each other, think of children in the backseat of the car, no touching.  Keep the planted container in a cool dry place until you start seeing growth.  The hyacinths will take about 6 weeks to bloom, the ziva narcissus will bloom in 2-3 weeks, and the amaryllis will take from 3-8 weeks depending on the variety.  Forcing bulbs in water will take everything they have to bloom so once they are finished blooming you can toss the bulbs.
Now, let's plant our bulbs in soil.  This time use the container with the drainage hole.  Fill the container with soil and plant your bulbs in the soil.  Plant hyacinths with the bulb tips above soil surface, plant the amaryllis to the shoulder of the bulb, and the narcissus bulb up to the neck.  Don't let the bulbs touch each other, then water.  Turn your container to keep the stems growing straight.   The amaryllis can be replanted outside once the weather warms.
Finally, let's get your bulbs in the ground. Plant hyacinths, Dutch iris, leucojum, narcissus, ranunculus, and lycoris now.  Mid-month you can start planting your tulips.  Before planting bulbs in your garden, find a spot that gets full sun this time of year and is a bit shadier in the summer. Under a deciduous tree would be ideal.  Planting in a raised bed is the next step in keeping bulbs healthy, bulbs may rot when soil holds water too long.  How deep should you plant your bulbs?  Usually, you plant the bulb with the tip at the depth of the width of the bulb. The exception to this rule is amaryllis, plant amaryllis with the neck above the soil line.  Tulips and hyacinths need to be refrigerated for 4-6 weeks before planting.  For beauty now, plant winter color in the beds with the bulbs, you will not only have an amazing landscape now, but in a few weeks, it will be breathtaking.
Speaking of winter color, it just gets better and better.  Alyssum makes a sweet-scented mounding ground cover that is great for the outside edge of your landscape.  Alyssum comes in white, purple, and pink. Lobelia is another vibrant blooming ground cover. Lobelia comes in a vibrant dark blue, light blue, purple, and white. Lobelia looks great on the outside edge of your landscape.   Pansies are a beautiful cool weather blooming flower.  Pansies come in purple, blue, red, yellow, pink, orange, white, and mixes of these colors.  Some pansies have "faces" others are solid colors.  Pansies grow 6-8" tall and look good planted en masse.  Viola's have smaller flowers than pansies but the impact is just great.  These beauties bloom their hearts out and can take more heat than pansies can.  They come in purple, blue, yellow, orange, red, pink, black, and mixes of these colors.  Viola's grow to about 4-8″ tall.
Snapdragons are another great plant for the cooler months.  We carry the following snapdragons: Snapshot grows 6-10" tall, Montego grows 6-10" tall, Solstice grows to 16-20" tall, Sonnet grows 18-20" tall, and Rocket grows to 2.6'-3' tall.  These annuals add height and vibrant to pastel color to your landscape.  Snapdragons come in yellow, white, purple, pink, orange, burgundy, and red.
For the most vibrant color of the winter, cyclamen, will fill the bill.  Cyclamen is a small plant that packs a huge color punch! Cyclamen grow in clumps to 8-10" tall.  They come in red, burgundy, violet, pink, white, salmon, rose, and mixes of these colors.  This plant also has lovely heart shaped leaves with grey markings.  Beautiful planted en masse or as a specimen.  Plant these winter beauties in full sun and feed them to keep them blooming until the heat returns.  These are just a few of the color plants available now to brighten up your garden or patio.
Now, for camellias.  Last month I covered most of the how to plant, in a raised bed, when to plant, now, etc.  I wanted to add more pictures of the blooms to show the range of beauty that camellias have, enjoy!
Enjoy the winter garden!
Pat
By Gloria Cadena
It's been awhile since we wrote or shared about Alex Maas. However, something happened in our household that made him a huge topic of discussion.
My daughters started watching the Twilight series again. The obsession with #TeamJacob started happening all over again. When my daughters began watching the movies, I had remembered a conversation I had with Jim Maas. He told me his son had worked on a song for one of the Twilight Movies. I told the girls and they immediately had to find it.
They found the Scene, it was in the Eclipse film. The song was used during a vampire training scene. The song is called "With you in my head (featuring the Black Angels) by UNKLE. It's a really cool song, upbeat and perfect for the scene. Here is the video and scene from a youtube Video I found.
Pretty cool to be a part of pop culture. Those movies were huge when they came out.
Jim and Carol are very proud of all of their children's successes. Jim has told me many of times advice, "Fatherly advice" he would tell his kids.
Such as: Do what makes you happy. Don't just work for the money.
You will make enough money and be happy.
If you are doing something that you would do for free and are getting paid for it, is it really work. It sure won't feel like it.
and my favorite one: Follow your passion the money will come.
I think it is safe to say all of Jim and Carol's kids have followed dad's advice.
I would like to think I am currently following Jim's advice too.