Bulbs
It's Amaryllis bulb time at Maas! I'm not one to push the holiday season but when the amaryllis bulbs come in I get that warm, comforting holiday feeling. Amaryllis bulbs are great for our gulf coast area. You can plant them in decorative pots for your tabletop or mantle. After your amaryllis bloom, they can go straight to the garden. No need to worry about freezing for most varieties and they are very carefree. For me, picking out only one or two varieties a year is the hardest part of the amaryllis experience. You can choose from solid red, white or pink. Pick double or single, or fat or thin petaled amaryllis types. Choose stripes, flowers with different colored throats or sparkling petals. The choices seem endless. Right now I'm preferring the sparkling ones but that may change tomorrow. Choose large bulbs for more flower stalks when the blooms appear.
Once you have chosen your bulbs decide whether you are going to plant them outdoors or in a pot for inside
. If you decide on a pot, think about how many bulbs you want to plant. Amaryllis get big so the pot needs to be big enough for your number of bulbs. The pot doesn't need to be deep but make sure it is wide enough to accommodate the blooms. You can pick any kind of decorative type planter. Make sure it has holes in the bottom or is deep enough to keep water from actually touching the bulb. Also, the planter needs to be heavy enough to hold the blooming amaryllis and big enough that the bulbs do not touch each other. I use some regular, well-draining potting soil and some green Microlife fertilizer in my amaryllis pots. Plant your bulb with the shoulders exposed. This means the top of your bulb is above the dirt. I love this part of planting amaryllis because you can instantly see when the first leaves emerge. Water sparingly until you see the leaves, then water more as the plant begins to grow. Once the flower stalks appear the plant grows very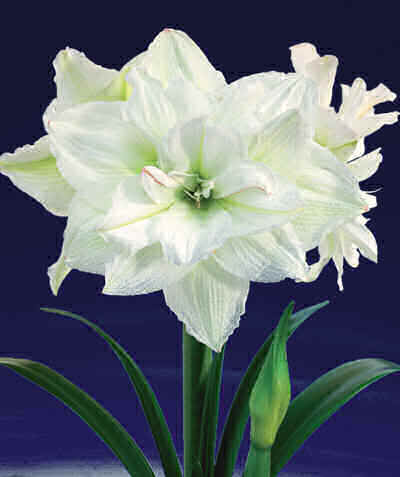 quickly. I always stake my amaryllis flower stalks as they can become very top heavy when the flowers bloom.  I use bamboo stakes and green gardeners tape but you can make the stakes more decorative if you like. Different types of amaryllis take different amounts of time to bloom. If you are trying to have blooms around the holiday's research how long it takes the different varieties of bulbs to bloom. An average flowering time is seven to ten weeks although some types will bloom in six weeks. After the blooms die, cut the flowering stalk back to an inch and a half above the bulb. Leave the leaves on the plant to allow the bulb to build up nutrition for the next year.
 At this stage, my bulbs always go out to a designated spot in my garden. I love the way amaryllis look when planted in groups. I carefully remove the bulb from the pot, dirt and all, and plant it in the 
garden at the same height it was planted in the pot. Do not plant your amaryllis deep. This causes the bulb to rot. My amaryllis garden is also in a raised bed so the bulbs never sit in water. Good drainage is essential for the success of your bulbs. After this step, my bulbs are pretty much ignored until the leaves start to die back the next fall. Sometimes I cut the leaves back to about three inches above the bulb at this point but you don't have to. It does keep the garden looking a little neater. Fertilize the bulbs and wait for the cycle to start over again.
Amaryllis have definitely become my favorite bulbs by far. They are extremely carefree and hardy, always give me a great bloom show and the leaves are pretty in the garden even when they are not in bloom. Mine have survived the Harvey flood with flying colors and I am eagerly awaiting my next blooms. Come see the new selection of fall bulbs including amaryllis bulbs at Maas this month. Bulbs are a great thing to add to your garden.
By: Pat Cordray
---
Okay, this is the first time that I have to say this, but I will repeat it each month until spring has sprung.  You ready? Here you go:  What to do if there is a freeze warning for our area?  Water your plants; this protects the roots, so water thoroughly, not just for 60 seconds.   Cover your plants tenting the fabric to the ground then secure it with pegs.  Once the weather warms up remove the fabric.  For hanging baskets, take them in or set them on the ground, water and cover them.  For plants in containers, take them in or water and cover.  These instructions are for plants that are tender to the cold.  This doesn't freeze proof your tender plants but it will help add just a little warmth and that may be all that is needed to save a plant.  It is better to be prepared than scrambling around at the last minute trying to find your cold weather gardening supplies.  So, place your N-Sulate cloth and pegs where you can find them.  No worries if you don't have any, we have all you need in stock at the nursery now.    You're ready!
November can be a great gardening month here, especially for certain flowering plants; like bulbs, annuals, herbs, and camellias.  I love all this beautiful color, let's get the planting started!
Bulbs are here and are ready to be planted.  For forcing inside your home, ziva narcissus, amaryllis, and hyacinths will look beautiful and give your home a festive look for the holiday season. The ziva's will bloom in 3-4 weeks, the amaryllis bulbs take 3-8 weeks to bloom (depending on variety), and the hyacinths will bloom in 6-8 weeks. You can stagger your plantings to keep fresh flowers blooming in your home all season. When the amaryllis are finished blooming indoors you can replant them in your garden for blooms the following spring. Fun, fun, fun! But don't stop there, we have many different amaryllis bulbs, tulips, ranunculus, daffodils, Dutch iris, leucojum, lycoris, and other varieties of narcissus besides ziva's that are just as fun!
When to plant your bulbs?  Tulips can be planted from mid-December through mid-January, they must be refrigerated for 4-6 weeks at about 45 degrees before planting.  We keep our tulips and hyacinths in the fridge so they will be ready to plant at the right time.  Daffodils, Dutch iris, leucojum, narcissus, hyacinths, and ranunculus can be planted this month.  To learn more about bulbs, come to our Bulb Class on Saturday, November 19th.  This class will be hands on, we are going to layer the bulbs in a pot and top it with annuals.  You won't want to miss this one.
How about beautiful color now? Cool weather plants like pansies, lobelia, alyssum, violas, stock, calendulas, snapdragons, English daisies, cyclamen, phlox, petunias, nasturtiums and dianthus can add wonderful fall and winter color to your containers and landscapes. Did I mention how beautiful dianthus looks with my dog, Julep? What do you think? Don't forget to add sweet peas, foxglove, holly hocks, and delphinium for early spring color, to your garden, there is no time like the present. Full sun, well-draining soil, water, and Microlife are all that is needed to keep these cool weather plants blooming for months.
This would also be a good time to plant herbs in your garden; the cold weather makes for strong roots.  Oregano, salad brunet, winter savory, chamomile, dill, rosemary, and fennel are just a few of a long list of herbs to consider planting now.  Most herb plants need full sun and well-draining soil. Give your plants plenty of room in the garden, when you buy herbs in a 4" container you may think, "Oh, good a small plant", but no, no, no, herbs are bigger than you think. Herbs will add a whole new dimension to your garden with fragrant leaves that attract beneficial insects and many can be used to enhance the flavor of your meals. Fertilizer is only needed a couple of times of year. Oh, so easy and very fragrant.
Camellias have some of the most amazing blooms of any shrub.  Can you believe that the blooms are prettier than the pictures? They are, wow!  Camellias are slow growing evergreen shrubs that bloom from about October through March depending on the variety.  Sasanqua camellias bloom in the fall and have small leaves and flowers, usually the flower forms are single, double or semidouble. Sasanqua camellias grow to about 10-12 feet tall for upright varieties and 2-5 feet tall for spreading varieties. Japonica camellias have larger
leaves and usually have bigger blooms. The forms of the Japonica Camellia blooms are usually single, semidouble, anemone, peony, rose, or formal double. Japonica camellias start off as shrubs, growing to about 6-12 feet tall and wide, but can slowly become a tree reaching 20 feet tall.
Camellias are easy to grow here and are just too beautiful to not be included in your garden.  For the healthiest plants, with the most blooms, give your camellias good organic soil that drains well, regular water, and a fertilizer for acid loving plants.  Protect them from our afternoon sun and strong winds and prune them at the right time, just after they finish blooming. Your camellias will be simply beautiful.
November is so alive with vibrant color to enjoy,
Pat
Amaryllis may come from South America, South Africa or Holland, but wherever these bulbs may come from they are an outstanding perennial for our area. Amaryllis blooms are large single or double trumpet shaped flowers that bloom in a wide range of colors from white, red, pink, green, orange and shades of these colors, depending on the variety. Indoors or outdoors these beauties can be planted in the fall and winter. When planted indoors you will have blooms in 6-8 weeks. Outdoors your amaryllis can bloom in March, April or May.
Amaryllis can be grown indoors, forced, in any zone. When forcing indoors use a pot that is just slightly bigger than your bulb and a good quality soil. Mix in rock phosphate to enrich your soil. Plant the bulb so that about half of the bulb is above the soil line. Once planted and watered place pot with bulb near a sunny window move as the flowers start to bloom to prolong the life of the flowers.
Most amaryllis get from one to two feet tall with large flowers so the flower stalks may need to be staked. I have done 3 bulbs in a terra cotta window box, this looks spectacular. I like to use heavier pots for my bulbs, so no tipping over. As the blooms finish cut the stalks about 2″ above the bulb, do not cut off the leaves. When amaryllis bulbs have finished blooming plant them outside in the garden.   Allow the leaves to continue to grow through the summer so that your amaryllis will grow and bloom next spring. When planting your amaryllis out doors pick an area of your garden that is raised and gets morning sun. Loosen the soil, mixing in rock phosphate and a little sharp sand for extra good drainage. Amaryllis look amazing when planted in groups, allow about a foot between bulbs. Plant the amaryllis up to the shoulder of the bulb keeping the neck above the soil, water well, and then keep soil slightly moist. Water and feed regularly and you should have beautiful spring flowers that return year after year.
Amaryllis bulbs are in stock at the nursery so come in and shop for your favorites. Below is a list of the amaryllis we have. (Please call first to make sure we still have your pick in stock)
Name                           Color                           Height
Royal Velvet                  Velvety Red                  14-16″
Lemon Lime                  White/Green               14-16″
Nagano                         Coral Apricot                14-16″
Aphrodite (dbl)              White/Pink                  14-16″
Double Dragon (dbl)       Reds                            14-16″ 
Elvas (dbl)                    Whites/Reds                 14-16″
Prelude                         Reds/Whites                14-16″
Blushing Bride               Pinks                            14-16″
Wedding Dance             White                           14-16″
Dancing Queen (dbl)      Pinks                            14-16″
Charisma                      Reds                             14-16″
LaForest Morton            Deep Pinks                    16-24″
Red Pearl                      Crimson Red                 18″+
Baby Star (mini)            Reds/Whites                 18″
White Nymph (dbl)        White                            12-24″
Bogota                         Red/Salmon                   24″+
Donau                          Pink                              15″ 
La Paz                         Red/Green                     24″
Lady Jane                    Apricot Rose                   20″
Papillio                        Scarlet Tan                     18-24″