Annuals & Perennials
By: Kathryn Courtney
My absolutely favorite plant in my garden is my sasanqua camellia. I planted it after I ripped out all of the awful builders landscaping plants in my new front yard. That was 25 years ago. My camellia has provided me with 25 years of so much joy that I think everyone should have at least one sasanqua in their garden.
Sasanqua camellias are smaller, more open, delicate bushes than their sister shrubs, japonica camellias. They bloom from late summer to early winter depending on the type. 3 to 4 inch blossoms of anything from white to light or bright pink to cherry red adorn these shrubs in a profusion of blooms. The blooms can be single, semi-double or double. Some of them even have a heavenly tea or rose scent that rivals most flowers for fragrance. The foliage starts out a coppery-bronze and turns dark green at maturity. All camellias are evergreen making them a great landscape shrub.
Sasanqua camellias need to be planted in partial shade in evenly moist, acidic, well-drained soil. After established, these camellias are drought tolerant but perform better with consistent watering. Because of the size and shape of the shrub, these plants make great foundation plantings or low borders for your garden. Sasanqua camellias can also be shaped into tree form and planted in a courtyard, corner garden bed, or a formal garden. Their versatility allows them to blend in with other landscape shrubs and become a great backdrop in a garden. Their bloom time makes them a perfect garden companion as sasanqua camellias bloom when other blooming plants in the garden are finished. Because these shrubs enjoy part shade their bright blooms brighten an otherwise darker part of the garden.
Come to Maas and check out our huge selection of camellias. Lots of them are blooming right now and it is the perfect time to see them, smell them and plant them. We can answer any questions you may have about our camellia selection. The camellias I have listed below are just a sample of what we have at the nursery. Come out and pick your favorite. We hope to see you at the nursery soon!
Yuletide
Deep green evergreen shrub with brilliant red flowers and bright yellow stamens
Bloom time usually coincides with the Christmas season
Moderate upright grower to 8′ to 10′ tall and wide.
Pink A Boo
Evergreen shrub with deep pink blooms, bright yellow stamens and a wonderful fragrance. A sport of Yuletide
Winter bloomer
8′ to 10′ tall and wide.
White Doves
Frilly white blossoms with bright yellow stamens and dark green foliage. Ideal for smaller space or container.
Mid season bloomer
4′ to 5′ tall and wide.
October Magic
Ruffled white blooms with bright pink trim and dark green foliage.
Bloom time fall to early winter
6′-8′ tall and 4′-5′ wide upright bush.
Bonanza
Deep red large semi double peony formed flowers with bright green evergreen foliage.
Blooms in fall
4′- 5′ tall and 5'to 6′ wide.
Chansonette
Brilliant pink double blooms and a short pendulous form with dark evergreen leaves.Makes a great cut flower. Can be used as a ground cover or espalier.
Blooms fall to early winter.
2′ – 3′ tall and 8′ wide.
A Few More Sasanquas We Love
| | | |
| --- | --- | --- |
| Kanjiro | Jean May | Shishi Gashira |
Making it Through The Rain (Barry Manilow). Rain rain go away come back another day. We have all sung that little jingle at some time in our life.We have Raining on Sunday,(Keith Urban),Rainy Days and Mondays,(Carpenters), there is Kentucky Rain,(Elvis), Smokey Mountain Rain,(Ronnie Milsap), Rains Down in Africa,(Toto) and it Never Rains in Southern California,along with A Rainy Night in Georgia. Now I begin to think there is Signing in the Rain,(Gene Kelly), Kissin' in the Rain,(Toby Keith), Raindrops Keep Falling on my Head,(B.J. Thomas). Then we have Purple Rain,(Prince), Fire and Rain,(James Taylor), Rainy Day Feeling Again, Here Comes the Rain,Love a Rainy Night. Again we have Have You Ever Seen the Rain and Who'll Stop the Rain, (CCR). There is Rhythm of the Rain,(Cascades), Rain Fell Down,(Stones) and finally Rain is a Good Thing,(Luke Bryan).
So by now you may be wondering what does all these rain songs have to do with production? Read on for the answer!! It all starts with the Zephyr Lily. The Zephyr winds from the west must blow in the rain for the Zephyr lily,( AKA Rain lily ). This easy to grow bulb, a crocus look alike, transforms like magic across the landscape. Get it? Yes it blooms after the rain.
Although many of the common names include lily, these plants are in the Amaryllis family. The Rain Lily is a hardy perennial that can be planted in mass groupings or here and there in nooks and crannies. This plant is easy to cultivate and fast to naturalize. This is one plant that is perfect for our hot summer climate, growing in full sun and or part shade with well drained soil. So the production plant of the month is the rain lily.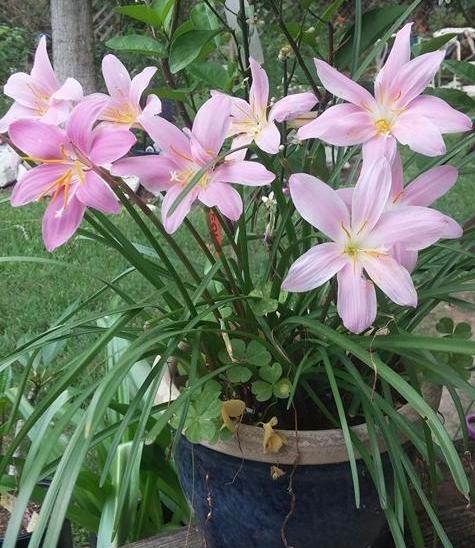 The production team planted 3,000 rain lily bulbs in wonderful colors of pink,white and yellow. Remember with the Magic lily, Fairy Lily, or Rain Lily, the" MAGIC" is the rain, it's a good thing. Please stop by the nursery to witness the magic.
I admit it. I am a compulsive plant collector. I collect native plants, heirloom vegetables, antique roses and all kinds of salvia. My new obsession… tropical hibiscus.They are the most showy, colorful, stunning, spectacular plants and flowers in the world! (in my opinion) And the fun part is growing them is easy. Tropical hibiscus have a few requirements but nothing hard.
These hibiscus need full sun to filtered light in our hot summer afternoons. Water them regularly but don't let them get soggy. A very important requirement is fertilizer. Hibiscus really need their own food. These plants originate from volcanic regions which are high in potassium. Potassium is the third number on your fertilizer container. Maas carries food specifically for hibiscus to meet the unique nutrient requirements of these plants. I use granular food because it is easy. Water your hibiscus a little first, sprinkle the food around the plant and water again to start the feeding. Slow release fertilizers will feed the plant every time you water. Do this for your hibiscus every month or more during the blooming season. My hibiscus in pots get fed every two weeks.
The only real issue with hibiscus is they are not freeze hardy. Bring your hibiscus pots in if the temperature gets to the low thirties. For hibiscus planted outside use Insulate cover over the plants and secure it to the ground with rocks. Do not use plastic as this will burn the plants and bed sheets sometimes are not enough cover. One of my colleagues at Maas is very clever. She uses cotton backed plastic picnic table cloths to prevent freezing hibiscus. The cotton side goes on the plants. She says they work great. If after all your precautions your plants still freeze, do not pull them up immediately. I have had hibiscus come back from the dead several times because the roots did not freeze. In spring, cut the dead plants back to the ground and wait. Miracles do happen.
Sometimes hibiscus get pests or fungus. Treat your hibiscus with Triple Action when this happens. It is an organic pesticide and fungicide all in one that does the trick every time. Spray your plants when you first notice the problem, Don't let the bugs get out of hand.
There are so many beautiful pictures of hibiscus from the nursery. Here are some examples of the colors and varieties Maas carries. If you want a special variety, call before coming. Our stock changes daily. My advice is come to the nursery and see what we have. It's a fun outing and the hibiscus won't disappoint!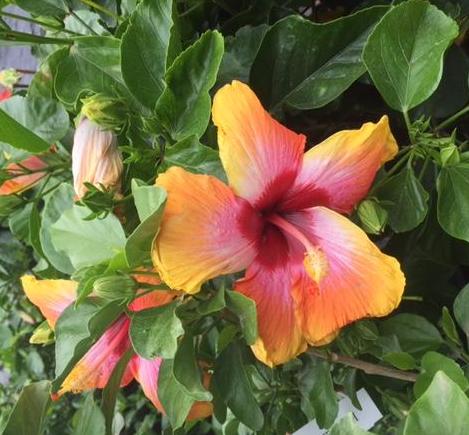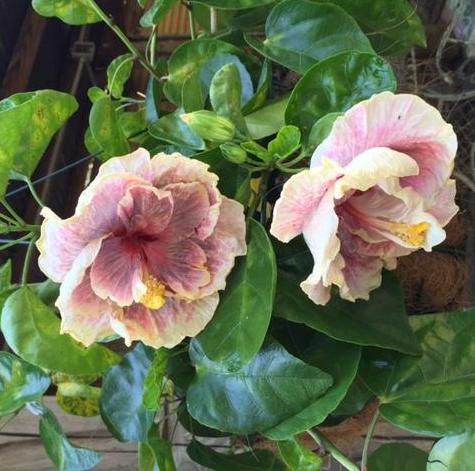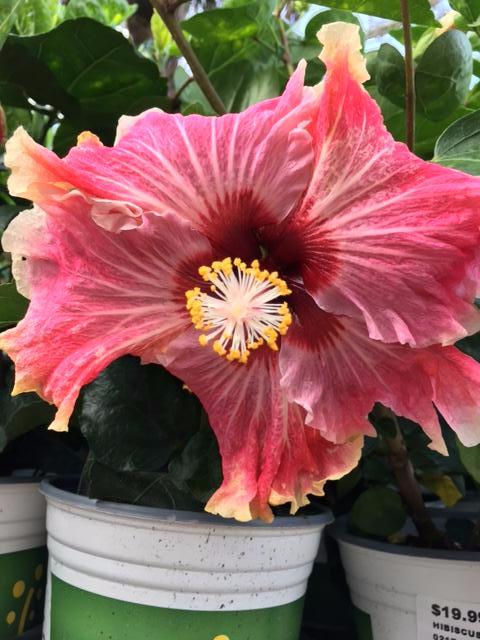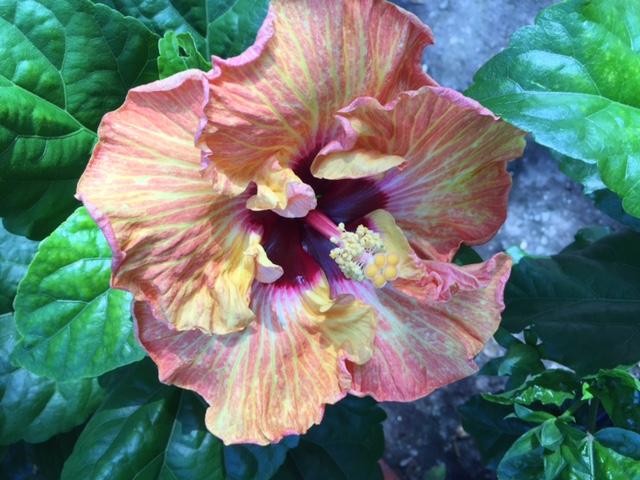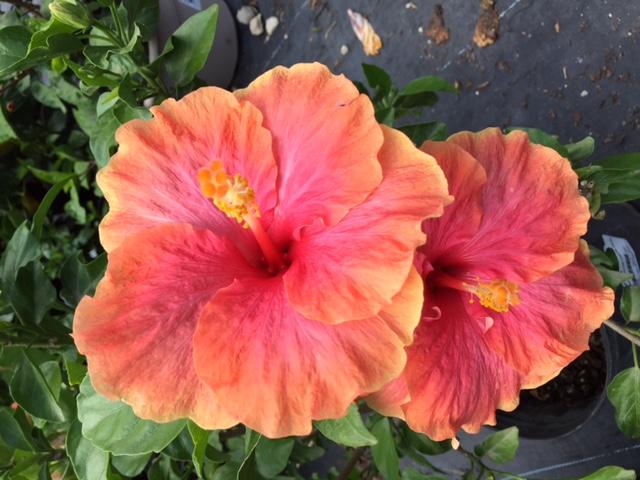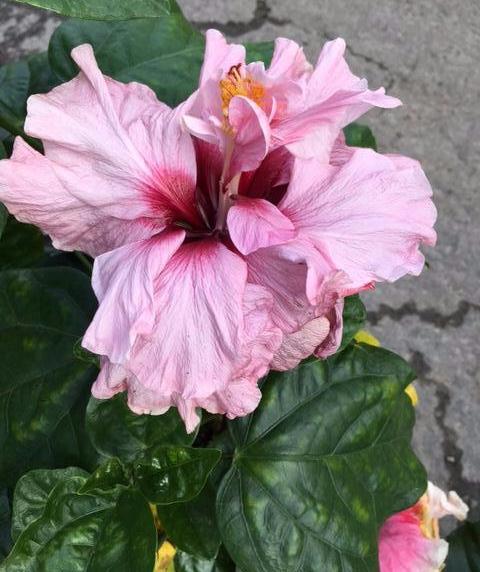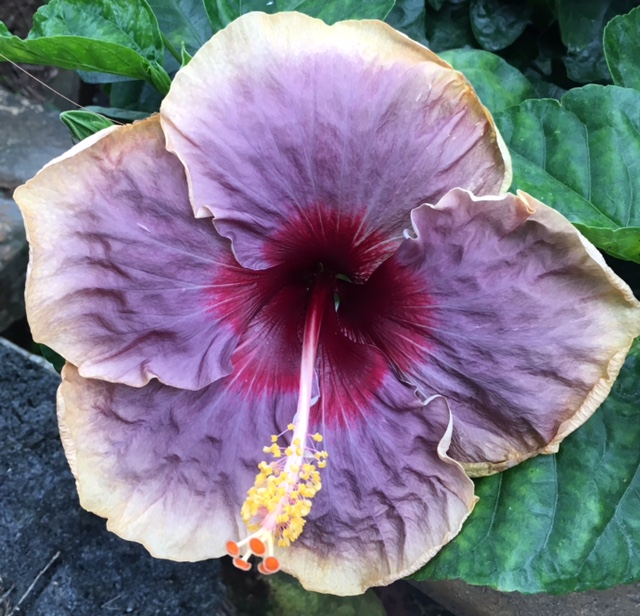 Interested in Elephant Ears?
Are you looking for an interesting tropical plant for that spot in your yard that doesn't drain well? Or perhaps you're looking for a striking plant for a container or water garden. Take a look at the many elephant ear varieties available, a group of tropical perennials grown for their large heart-shaped leaves, for both sun or shade.
Elephant ears belong to the family Araceae, as do caladiums, and can either be from the genera Colocasia (Taro) or Alocasia, native to tropical Asia and Pacific islands, or Xanthosoma, native to tropical America. All are grown year-round in more tropical areas but die back and go dormant during our zone 9 winters.
Colocasia varieties, perennial in USDA zones 8-11, prefer full sun and wet soil, and can tolerate standing water.
These can make an attractive addition to any water garden. The plants grow from tubers or corms, with propagation by division only. Alternately, Alocasia varieties, perennial in zones 8b-11, prefer shade or part sun with frequent watering in well-drained soil. Grown from both tubers and rhizomes (underground creeping rootstalks), both can be used for propagation of new plants.
By appearance, Colocasia varieties can be identified by their downward pointing leaf tips, with leaves extending from long petioles (succulent stems) coming directly from the corm and attaching near the middle of the lower surface of the leaf. Alocasia and Xanthosoma leaf tips point outward and upward generally, with the petioles attaching at the base of the leaf.
The plants do well in pots with lots of organic matter mixed into the soil and appreciate regular watering. Many varieties of the Colocasia genus are wetland plants that can also be featured in water gardens, but Alocasia varieties prefer well drained soil. Both varieties do well in part shade to sun with some protection, but the darker purple-leaved types especially enjoy full sun. In beds, elephant ears can be planted en masse, or play well with other striking tropicals like cannas, criniums, or bananas. Coleus and caladiums also make good planting companions.
Many elephant ear species have traditionally been grown as a staple food for the edible starchy corms or tubers.
The Hawaiians pound the cooked taro (Colocasia esculenta) tubers into a paste known as poi and use the leaves to wrap fillings like chicken or fish that are then steamed. (All parts of the plant contain calcium oxalate crystals, and uncooked, will cause stomach upset if consumed; sap can be a skin irritant.)
Some fantastic Colocasia selections at Maas Nursery include Black Coral, a clumping variety with deep purple leaves, growing 3 to 4 feet tall and wide, and Hawaiian Punch, a clumper with small 8-inch-long green leaves and bright red stems. Alocasia selections include the Yucatan Princess, a dark green leafed beauty with burgundy stems that grows 6 to 8 feet tall and 4 to 5 feet wide, or the large similarly sized Portadora with dramatic ribbed leaves. We also carry Lime Zinger, a bright chartreuse Xanthosoma variety growing 2 to 4 feet tall and 1.5 to 3 feet wide that will brighten up any planting area.
Deb Pavlosky
"Smell is a potent wizard that transports you across thousands of miles and all the years you have lived." – Helen Keller
When most people think of fragrant flowers, I would assume roses come first to mind. Roses have such a wide array of colors and bloom types and growing habits and, yes, also fragrance. So, though Shakespeare wants us to believe differently, a rose by any other name does not necessarily smell as sweet. Actually, there are roses with no scent at all. Peggy Martin is one very popular variety of pink climbing rose that has no scent.  So, if you are trying to grow fragrant plants, and you are planning to use roses, be sure to smell the blooms before you purchase your plants. Also, check the temperature and time of day when you sniff the blooms. Some roses have stronger scents in cooler weather and some have stronger scents in the mornings. So, do a little research before picking your roses.
The following are just a few fragrant rose varieties that you can find at Maas Nursery.
Fragrant Cloud – Coral or red orange blooms, Strong sweet spice and rose scent
Double Delight – Red blooms with cream interior, Strong spicy rose scent
Don Juan – Red climbing rose, Strong rose scent
Cecile Brunner – Pink Climbing rose, Moderate tea scent
Mister Lincoln – Velvety, deep red blooms, Strong Damask rose scent
   Bulls Eye – Cream or Ivory flowers with cranberry centers, Moderate sweet spice scent
   White Licorice – Yellow blooms (more yellow when cool), Licorice and lemon scent
Belinda's Dream – Pink blooms, Moderate fruity scent
      Iceberg – White blooms, Mild honey scent
Beyond roses, there are many choices of very fragrant plants to use in your landscape.
More choices to add fragrance to your garden:
Annuals:
Flowering Tobacco – This plant is also known as flowering tobacco. Grows to 48″ in sun to part shade. Can bloom all year and blooms range in colors including white and pink.
Stock (this one likes cool weather) – Stock blooms in a variety of colors (pink, purple, white) in spring. Grows well in sun to part shade.
Sweet Alyssum – This plant blooms in clusters of very fragrant flowers (colors can be white, pink or purple). This annual is a prolific bloomer all year and some varieties can be grown as short-lived perennials.
Perennials/Shrubs:
Banana Shrub – Creamy-yellow flowers that have a banana scent.   This shrub blooms
| | |
| --- | --- |
| | |
| | Frost Proof Gardenia |
during the warm seasons. Slow growing, 6′-10′ tall and wide. Part to full sun.
Brunfelsia – Also known as Yesterday, Today and Tomorrow. Very fragrant purple flowers fade to violet and then white over a period of days. Some varieties only grow to 4′ tall and wide and others 3′ to 8′ tall and 4′ -6′ wide. Part sun.
Buddleia – Also known as Butterfly Bush. Most varieties are purple flowering and bloom summer through fall. Butterfly bush ranges in size from 3′ to 7′ tall and 3′ to 5′ wide. Full sun.
Butterfly Ginger – This ginger blooms white from mid summer to early fall. Best grown in sun to part shade. This ginger will grow 4′ to 6′ tall.
Crape Jasmine – White blooms through spring and summer. Fragrance is stronger in the evening. Can grow to 6′ to 8′ tall and wide. Part to full sun.
Gardenias – There are many varieties of Gardenias and they range in size from Radicans (6″ to 12″ tall and 2′ to 3′ wide) to First Love (5′ to 8′ tall and 3′ to 6′ wide). First Love blooms late spring through early summer, Radicans and Frost Proof bloom in the summer and August Beauty blooms through spring through fall. Most people are familiar with the stark white blooms and amazing fragrance of gardenias.
Geraniums (lemon scented) – Blooms in summer with light pink to purple flowers. It's the foliage with the lemon scent that you smell. Grows 18″ high and wide. Part to full sun.
Heliotrope – Can be perennial, but mostly grown as an annual. Purple flowers with intense fragrance that bloom spring through summer. Part to full sun.
Mock Orange – Blooms white flowers in April and May. Can grow to 6′ to 8′ tall and wide. Full to part sun. This shrub is deciduous.
Natal Plum– White flowers are very fragrant and this plant will bloom all year in sun to part shade.   Fruits will form on this plant, but leaves and flowers are poisonous.
Night Blooming Jessamine (aka Night blooming cestrum or night blooming jasmine) – Very small greenish white flowers bloom in the summer. Grows to 8′ to 10′ tall and 3′ wide. Part to full sun. Blossoms only open at night.
Pineapple Sage (Tender perennial) – Blooms, showy red flowers in late spring to fall. The foliage has a pineapple scent and can be used in drinks and foods. Grows 3′ to 4′ tall and wide. Full sun.
Pittosporum – Pittosporum shrubs bloom with very small clusters of orang-blossom scented flowers in spring. The Japanese Mock Orange variety can grow to 10′ to 12′ tall and wide.   The Variegated Japanese Mock Orange grows 6′ to 8′ tall and wide or even larger with age. Wheeler's Dwarf Pittosporum grows 2′ to 3′ tall and 4′ to 5′ wide. All like part to full sun.
Sweet Olive – Small white blooms in the spring that are very fragrant. This plant likes morning sun and afternoon shade. It can grow to 10′ tall if un-pruned.
Viburnums– Eastern snowball viburnum blooms masses of white flowers though summer. It will grow 12′ tall and 10′ wide or larger with age. This shrub requires part to full sun. This shrub is deciduous.
Vines:
Arabian Jasmine (can be considered a shrub as well) – The fragrant white flowers open at night and bloom June through September. This plant will reach 6′ to 8′ tall and 3′ to 4′ wide. Part to full sun.
Carolina Jessamine – Blooms bright yellow flowers in late winter to early spring. This vine will grow to 20′ with support. Part to full sun.
Confederate or Star Jasmine – Very fragrant white flowers from spring to summer. This vine can reach 18′ to 20′ with support or 1′ to 2′ as groundcover. Part to full sun.
Honeysuckle – Hall's Japanese Honeysuckle has white to yellow flowers that bloom in the summer. This plant can be grown as a vine to 15′ tall or groundcover to 2′ tall. Full sun. Trumpet Honeysuckle has trumpet-shaped scarlet-orange flowers and blooms spring through fall. It grows fast to 20′ long. Part to full sun.
Passion vine – The incense variety blooms violet to lavender from late spring to early fall in sun to part shade. This vine can grow to 10′ long.
Pink Jasmine – Very fragrant light pink flowers spring to early summer. Will grow to 20′ long. Full sun.
Rangoon Creeper– Also known as Drunken Sailor, this plant blooms in clusters of red flowers that fade to pink from late spring to mid fall. Can grow to more than 40′ in sun to part shade. This is a tender perennial.
Wisteria – The Texas Purple Japanese Wisteria blooms purple flower clusters in the spring.   This is a fast growing, deciduous vine that will grow to 25′ long. This vine likes full sun. Amethyst Falls Wisteria is also deciduous and will to 10′ long. This vine blooms with purple racemes in late spring and repeats lightly through summer. This vine likes part to full sun. Evergreen Wisteria blooms late summer to early fall and will grow to 15′ long in full sun. Evergreen Wisteria has been described as having a camphor-like scent.
Trees:
Angels Trumpet – These small trees can grow in sun to part shade. Blooms can be pink, white, yellow or orange and appear from summer to early fall. They usually grow 6′ to 8′ tall and these are poisonous plants. Angels Trumpet flowers are most fragrant in the early evening.
Citrus – All varieties of citrus trees produce fragrant flowers before they fruit.
Magnolia – Brackens Brown Beauty is a moderate grower to 50′ tall and 30′ wide in full sun. This variety blooms in late spring. The creamy white flowers are very fragrant. Sweet Bay Magnolias are moderate growers to 20′ tall and wide in part sun. The creamy-white, lemon scented flowers appear through the summer.
Mexican Plum – This tree will grow 15′ to 35′ and blooms fragrant white flowers before leaves appear. This tree does well in full sun.
Texas Mountain Laurel – This small shrub or tree blooms purple blooms in the spring that smell like grape soda. This plant prefers full sun and is slow growing to 10′ to 15′ tall and 8′ to 10′ wide. Can also be trained on an espalier or grown as a patio tree. Once established, it will only need occasional watering.
These are just a few options for adding fragrance to your garden. There are so many more….
Spring is here and I am looking forward to the aromas of freshly mowed grass and sweet smelling blooms. Time to add some sweet-smelling plants to your garden too.
Marigolds are easy to grow. Take a look at what will help your marigolds thrive:
Sunlight: Marigolds can grow in full sun to partial-shade, but it is preferable to plant them in sunny locations as shading may have an adverse effect on flowering.
Soil: Marigolds grow best in moist, well-drained and fertile soil.
Spacing: Grow your tall Marigold varieties 40cm apart and the dwarf varieties 20cm apart to give room to the growing branches. This will result in a uniform display.
Watering: Marigolds do not need regular watering but require so during the dry spells. Be careful not to sprinkle water on the flowers of tall varieties, otherwise they become water-logged and soft. It is better to water Marigolds during the early morning hours so that there is sufficient time for the water on the foliage to dry up.
Fertilizers: Marigolds do not require fertilizers if the soil is rich in organic material. For poor soils, you can add a slow-acting, granular fertilizer(about 1 teaspoon per plant), but be careful not to add an excess of fertilizers which may result in an increased growth of foliage instead of flowers.
Mulching: When the marigold seedlings are tall enough, spread a 2 or 3 inch layer of some organic material such as dried grass, wood chips or chopped leaves on the soil around them. This mulch reduces weeds, retains moisture in the soil, cools the soil, and fertilizes the soil as it decomposes.
By: Pat Cordray
---
Okay, this is the first time that I have to say this, but I will repeat it each month until spring has sprung.  You ready? Here you go:  What to do if there is a freeze warning for our area?  Water your plants; this protects the roots, so water thoroughly, not just for 60 seconds.   Cover your plants tenting the fabric to the ground then secure it with pegs.  Once the weather warms up remove the fabric.  For hanging baskets, take them in or set them on the ground, water and cover them.  For plants in containers, take them in or water and cover.  These instructions are for plants that are tender to the cold.  This doesn't freeze proof your tender plants but it will help add just a little warmth and that may be all that is needed to save a plant.  It is better to be prepared than scrambling around at the last minute trying to find your cold weather gardening supplies.  So, place your N-Sulate cloth and pegs where you can find them.  No worries if you don't have any, we have all you need in stock at the nursery now.    You're ready!
November can be a great gardening month here, especially for certain flowering plants; like bulbs, annuals, herbs, and camellias.  I love all this beautiful color, let's get the planting started!
Bulbs are here and are ready to be planted.  For forcing inside your home, ziva narcissus, amaryllis, and hyacinths will look beautiful and give your home a festive look for the holiday season. The ziva's will bloom in 3-4 weeks, the amaryllis bulbs take 3-8 weeks to bloom (depending on variety), and the hyacinths will bloom in 6-8 weeks. You can stagger your plantings to keep fresh flowers blooming in your home all season. When the amaryllis are finished blooming indoors you can replant them in your garden for blooms the following spring. Fun, fun, fun! But don't stop there, we have many different amaryllis bulbs, tulips, ranunculus, daffodils, Dutch iris, leucojum, lycoris, and other varieties of narcissus besides ziva's that are just as fun!
When to plant your bulbs?  Tulips can be planted from mid-December through mid-January, they must be refrigerated for 4-6 weeks at about 45 degrees before planting.  We keep our tulips and hyacinths in the fridge so they will be ready to plant at the right time.  Daffodils, Dutch iris, leucojum, narcissus, hyacinths, and ranunculus can be planted this month.  To learn more about bulbs, come to our Bulb Class on Saturday, November 19th.  This class will be hands on, we are going to layer the bulbs in a pot and top it with annuals.  You won't want to miss this one.
How about beautiful color now? Cool weather plants like pansies, lobelia, alyssum, violas, stock, calendulas, snapdragons, English daisies, cyclamen, phlox, petunias, nasturtiums and dianthus can add wonderful fall and winter color to your containers and landscapes. Did I mention how beautiful dianthus looks with my dog, Julep? What do you think? Don't forget to add sweet peas, foxglove, holly hocks, and delphinium for early spring color, to your garden, there is no time like the present. Full sun, well-draining soil, water, and Microlife are all that is needed to keep these cool weather plants blooming for months.
This would also be a good time to plant herbs in your garden; the cold weather makes for strong roots.  Oregano, salad brunet, winter savory, chamomile, dill, rosemary, and fennel are just a few of a long list of herbs to consider planting now.  Most herb plants need full sun and well-draining soil. Give your plants plenty of room in the garden, when you buy herbs in a 4" container you may think, "Oh, good a small plant", but no, no, no, herbs are bigger than you think. Herbs will add a whole new dimension to your garden with fragrant leaves that attract beneficial insects and many can be used to enhance the flavor of your meals. Fertilizer is only needed a couple of times of year. Oh, so easy and very fragrant.
Camellias have some of the most amazing blooms of any shrub.  Can you believe that the blooms are prettier than the pictures? They are, wow!  Camellias are slow growing evergreen shrubs that bloom from about October through March depending on the variety.  Sasanqua camellias bloom in the fall and have small leaves and flowers, usually the flower forms are single, double or semidouble. Sasanqua camellias grow to about 10-12 feet tall for upright varieties and 2-5 feet tall for spreading varieties. Japonica camellias have larger
leaves and usually have bigger blooms. The forms of the Japonica Camellia blooms are usually single, semidouble, anemone, peony, rose, or formal double. Japonica camellias start off as shrubs, growing to about 6-12 feet tall and wide, but can slowly become a tree reaching 20 feet tall.
Camellias are easy to grow here and are just too beautiful to not be included in your garden.  For the healthiest plants, with the most blooms, give your camellias good organic soil that drains well, regular water, and a fertilizer for acid loving plants.  Protect them from our afternoon sun and strong winds and prune them at the right time, just after they finish blooming. Your camellias will be simply beautiful.
November is so alive with vibrant color to enjoy,
Pat
Perennial hibiscus, hardy hibiscus, tropical hibiscus, rose mallow, swamp mallow, scarlet rose mallow, Texas Star hibiscus, hibiscus moscheutos, hibiscus coccineus, hibiscus mutabilis, Rose of Sharon(shrub form of hibiscus), or rose mallow (perennial form).  OK, now to make it simple.
Perennial hibiscus are commonly called "hardy hibiscus" and "rose mallow," and the rose mallow is the same as moscheutos.  Perennial hibiscus are hardy in zones 4 to 9, and die back to the ground every year.  The plants are slow to emerge in spring so just be PATIENT for them to start growing.
Hibiscus coccineus is known as swamp hibiscus, scarlet rose mallow and Texas Star hibiscus. These plants also come back every year.  Then, there is the tropical hibiscus and it's just that, tropical, meaning it will die if not protected from cold temperatures.  It is perennial in zones 9 and 10.  The features of  hibiscus include large saucer shaped flowers measuring 6″ to 1 foot across, lovely colors of pink, red, purple, white and various shades of the above.
The leaves are green, reddish purple, or bronze depending on the plant variety.  For a dramatic look space your hibiscus 3 foot apart in the garden.  Keep in mind your hibiscus prefer moist to wet soil and the moisture availability influences the height, (staking is not normally needed).
One good thing for the Texas gardener, the hibiscus plant is tolerant of heat and humidity, and is attractive to hummingbirds and the butterflies, but ignored by deer.  If you want to wow your friends and neighbors, people walking their dogs, or riding their bikes start planting your hibiscus collection today.
Really it's not that hard, easy to grow, full sun,  decent soil, and water.  Check out our supply at the nursery,  you would be" Plum Crazy" (my favorite purple) if you didn't!
Ligularias are known by many interchangeable names. Leopard Plant, Ragwort and Golden Groundsel to name only a few. They are unusual, old world perennials with big leaves with long leaf stalks and unique daisy-like flowers.
They are excellent plants for growing in boggy areas
or along the banks of stream or pond. 
The ideal location for growing most Ligularias is in a bog garden with fertile, humus-rich soil in partial shade. In areas with hot summers, they will need partial to full shade.
Most Ligularias require constantly moist soil.
Type: Perennial 
Blooming Season:Late Summer, Spring, Summer
Color: Yellow Flower
Garden habitat: Boggy Areas, Along a pond or steam
Exposure: Full Shade/ Moderate Sun
Highlights: Slugs and snails can be a serious problem so precautions should be taken
  Firewheel or Indian blanket is a popular annual growing 1-2 ft. tall. The hairy stem is      usually much-branched and becomes woody at the base late in the season. Branched stems,  mostly leafy near the base, have showy flower heads with rays red at base, tipped with  yellow,each with 3 teeth at broad end. The well-known flower heads are 1-2 in. across with a  red center and a yellow outer band. Occasionally the three-cleft rays are solid orange or  yellow. The Gaillardia is one of the easiest wildflowers to establish. Although Indian blanket  will grow in a variety of soil types, for best results, choose an open to lightly shaded site  having loose, well-drained soil. This Wild Flower frequently exhibits blanket-like density,  which combines with the blending of bright reds and yellows to form a striking tapestry of  color. The disk flowers in the center are brownish red. These wildflowers stand like hundreds  of showy Fourth of July pinwheels at the top.
Type: Annual 
Blooming Season: May , Jun , Jul , Aug
Color: Red , Yellow , Brown
Garden habitat:  Sandy or calcareous soils, often disturbed places, mostly in grasslands or open places. 
Exposure:  Sun , Part Shade
Attracts: Butterflies
Use Medicinal: Tea of root for gastroenteritis, chewed powdered root applied to skin disorders. Sore nipples of nursing mothers bathed in tea made from the plant, also used for sore eyes.