Plant Library
by Kim Nichols Messer
                  Herbs can be grown easily in a container.  I like to start a couple of herb pots each season.  In the fall and winter, I prefer the savory herbs.  You may use almost any type of container.  A lightweight plastic container is good if you need to move the pot around as the light changes during the season.  A 15-gallon container will fit six herb plants easily.  Most herbs really only need about six inches of soil below to spread
out their roots.  A large terra cotta pot is a beautiful addition to a porch or patio but will be a bit heavy to move.  A 16.5-inch pot will hold six herb plants.  You may also plant herbs in a window box.  A smallish version will easily hold four herb plants.  I have parsley in a large mason jar in the kitchen window.  A small Bay Laurel plant will do well in a small pot outside in the sunshine.
                   Use good organic potting soil in a pot with several holes for good drainage.  Then choose your favorite herb combinations.  As the weather cools, I will be roasting root vegetables and making soups.  Some of my favorite winter herbs are Sage, Rosemary, Oregano, Thyme and of course Parsley.  Try roasting some beets with olive oil and rosemary.  Or butternut squash with sage.   Thyme is great with chicken and roasted vegetables.  Sage and Bay leaves are great in soups and stews.  Herbs are so easy to grow and so economical to have nearby for use in your cooking.  Fresh herbs will really enhance the flavor of your dish.  Give it a try, grow some herbs.
It's Amaryllis bulb time at Maas! I'm not one to push the holiday season but when the amaryllis bulbs come in I get that warm, comforting holiday feeling. Amaryllis bulbs are great for our gulf coast area. You can plant them in decorative pots for your tabletop or mantle. After your amaryllis bloom, they can go straight to the garden. No need to worry about freezing for most varieties and they are very carefree. For me, picking out only one or two varieties a year is the hardest part of the amaryllis experience. You can choose from solid red, white or pink. Pick double or single, or fat or thin petaled amaryllis types. Choose stripes, flowers with different colored throats or sparkling petals. The choices seem endless. Right now I'm preferring the sparkling ones but that may change tomorrow. Choose large bulbs for more flower stalks when the blooms appear.
Once you have chosen your bulbs decide whether you are going to plant them outdoors or in a pot for inside
. If you decide on a pot, think about how many bulbs you want to plant. Amaryllis get big so the pot needs to be big enough for your number of bulbs. The pot doesn't need to be deep but make sure it is wide enough to accommodate the blooms. You can pick any kind of decorative type planter. Make sure it has holes in the bottom or is deep enough to keep water from actually touching the bulb. Also, the planter needs to be heavy enough to hold the blooming amaryllis and big enough that the bulbs do not touch each other. I use some regular, well-draining potting soil and some green Microlife fertilizer in my amaryllis pots. Plant your bulb with the shoulders exposed. This means the top of your bulb is above the dirt. I love this part of planting amaryllis because you can instantly see when the first leaves emerge. Water sparingly until you see the leaves, then water more as the plant begins to grow. Once the flower stalks appear the plant grows very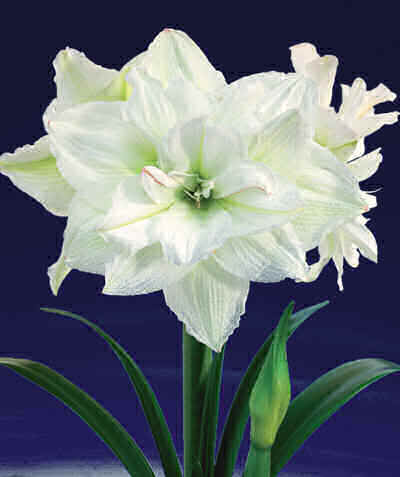 quickly. I always stake my amaryllis flower stalks as they can become very top heavy when the flowers bloom.  I use bamboo stakes and green gardeners tape but you can make the stakes more decorative if you like. Different types of amaryllis take different amounts of time to bloom. If you are trying to have blooms around the holiday's research how long it takes the different varieties of bulbs to bloom. An average flowering time is seven to ten weeks although some types will bloom in six weeks. After the blooms die, cut the flowering stalk back to an inch and a half above the bulb. Leave the leaves on the plant to allow the bulb to build up nutrition for the next year.
 At this stage, my bulbs always go out to a designated spot in my garden. I love the way amaryllis look when planted in groups. I carefully remove the bulb from the pot, dirt and all, and plant it in the 
garden at the same height it was planted in the pot. Do not plant your amaryllis deep. This causes the bulb to rot. My amaryllis garden is also in a raised bed so the bulbs never sit in water. Good drainage is essential for the success of your bulbs. After this step, my bulbs are pretty much ignored until the leaves start to die back the next fall. Sometimes I cut the leaves back to about three inches above the bulb at this point but you don't have to. It does keep the garden looking a little neater. Fertilize the bulbs and wait for the cycle to start over again.
Amaryllis have definitely become my favorite bulbs by far. They are extremely carefree and hardy, always give me a great bloom show and the leaves are pretty in the garden even when they are not in bloom. Mine have survived the Harvey flood with flying colors and I am eagerly awaiting my next blooms. Come see the new selection of fall bulbs including amaryllis bulbs at Maas this month. Bulbs are a great thing to add to your garden.
By: Deb Pavlosky
So, who really wants to grow something called carrion plant?  It doesn't SOUND pretty or like anything anyone would actually want to grow and propagate. But, I am really enjoying watching mine grow and flower.  Carrion plants aka starfish plants aka toad plants are in the genus Stapelia.  This genus of approximately 50 species originates in South Africa.  Carrion plants use their flowers to attract pollinators just like other flowering plants, but the pollinators this plant attracts are blowflies.  Blowflies like rotting meat, so yes, Stapelia flowers have been purported to have a less than pleasant smell, much like the corpse flower that many go to museums and botanical gardens to see when in bloom.   It's a novelty and interesting, but also very beautiful in bloom.
The buds look like tiny darts protruding from the stems and grow quite large and almost look like angular balloons with hand-sewn seams before they open.  Once the blooms open, they look like hairy starfish.  The blooms seem to last a very long time and I have yet to notice the smell, but I do have mine in a hanging basket about 7′ off the ground. So, I don't get right up next to it.
These plants like bright, indirect light and can be grown indoors near a bright window as well as outside.  Full afternoon sun in the Houston area might be too much for this plant, but morning sun with shady afternoons would be ideal.  In the colder months, this plant needs to be protected from freezing.   I will be bringing mine inside to overwinter.  Like all succulents, this plant needs very well draining soil and only occasional watering (some suggest no water during winter).  Applying a very light/dilute fertilizer infrequently during the warm/growing seasons will help with plant health and flowering.  In the spring, I will transplant mine to a clay pot and also take some cuttings.  Cuttings should be allowed to dry and harden over before planting.  More carrion plants to share with friends and family!  Such a fun and interesting plant to grow and share.
By: Deb Pavlosky
Tomatoes are quite the controversial vegetable. Educated people have debated their classification in the US since the late 1800's. Vegetables or fruits, what do you think? The biologist in me finds the answer to be undeniable. Tomatoes are very clearly (drum roll here) FRUITS. The very definition of a fruit is, and I quote from my desktop Scientific dictionary, 'the ripened ovary of a seed plant and its contents.' That is exactly what a tomato is my friends. So, why ARE tomatoes classified as vegetables? The 1893 US Supreme Court classified tomatoes as vegetables so that they could be taxed under the 1883 Tariff Act (10% duty on whole vegetables). Now, it all makes sense – right?  Interested?
I bet you all are wondering where the useful tomato planting information is.  Here ya go:
Tomatoes require full or part Sun (though most say they require full sun or 6 hours of direct sunlight) and lots of water to grow well.
You can plant tomatoes in the ground or grow them in containers. You should carefully consider the height of your tomato plant and the size of your container before planting.
Bury young tomato plants deeper than the container you buy them in. You can even leave just the few top leaves above the ground. Tomatoes are able to develop roots all along their stems, so this helps create a strong tomato plant. You can also dig a hole wider than it is deep to accommodate a tomato plant lying on its side. The plant will grow up toward the sun and straighten itself out.
Tomato plants definitely need fertilizer and if you plan to eat them (why would you grow them if you didn't?) we recommend an organic fertilizer like Microlife. During heavy fruit production, apply Microlife more frequently. Lots of folks have their own magical tomato fertilizer concoctions. Just remember, fruits are what they eat. What? In other words, if you use stinky fertilizers, your fruit can sometimes take on that flavor. Yuck.
Hold off on mulching tomato plants until the summer heat really starts to cause a problem with moisture for your tomatoes. You want the soil to "heat" start your tomato plants – they like it hot!
Tomato plants can be determinate (bears all fruit at one time) or indeterminate (bears fruit through the whole growing season). Determinate tomato plants will stop growing when they start bearing fruit.   Indeterminate tomato plants can continue to grow as they produce fruit through the whole season.
Caging tomatoes is important.  Some tomato fruits are HEAVY. The largest recorded was over 7lbs. Yours probably won't grow to the size of a cantaloupe, but you never know. So, use a cage from the very beginning. The tomato plant will appreciate the assistance and could possibly bear more fruit if supported.
You can remove the bottom leaves off a tomato plant once the whole plant gets pretty close to its normal height. These leaves get very little sun and are usually the ones to start fungal issues for the entire plant. You can also thin the leaves to allow more sun to reach the tomatoes, but remember, the plant needs leaves for photosynthesis.  Lastly, you can remove the small growths that pop up between branches. These won't bear fruit and just take energy away from growth or fruit production.
Just a few of the cultivars Maas Nursery will likely carry this year:
BigBeef:  ht.8-10′, Medium fruit, 69-80 days to maturity, indeterminate (good for fresh slicing, canning)
BrandywineHeirloom:  ht.3-9′, Large fruit, 90 days to maturity, indeterminate (good for fresh slicing, seeds can be stored if properly cleaned)
Celebrity:  ht. 2-3′, Medium fruit, 69-80 days to maturity, determinate (good for fresh slicing, canning, drying)
Glory:ht. 6-8′, Medium fruit, 69-80 days to maturity, indeterminate (good for fresh slicing)
PurpleCalabash: ht. 4-6′, Medium, PURPLE fruit, 69-80 days to maturity, indeterminate (good for fresh slicing, seeds can be stored if properly cleaned)
SunLeaper:  ht.4-6′, Medium fruit, 69-80 days to maturity, determinate (good for fresh slicing)
SweetMillion: ht. 4-6′, Small fruit, 55-68 days to maturity, indeterminate (good for eating fresh)
VivaItalia: ht. 4-6′, Medium, plum-shaped fruit, 69-80 days to maturity, determinate (excellent for sauces and canning)
GOSH! And that's just a few…
I am always intrigued to find out about the brave souls who first ate those exotic and interesting foods that came from far away.  We should pay homage to those who did not make a wise choice (moment of silence here). It is rumored that Mr. Robert Gibbon Johnson did us all a favor when he ate an entire basket full of bright red delicacies brought over to New Jersey from Europe in the early 1800s.  Folklore says he did it just to prove to the crowds the tomato fruits weren't poisonous.  Good thing he didn't eat any of the leaves!
Making it Through The Rain (Barry Manilow). Rain rain go away come back another day. We have all sung that little jingle at some time in our life.We have Raining on Sunday,(Keith Urban),Rainy Days and Mondays,(Carpenters), there is Kentucky Rain,(Elvis), Smokey Mountain Rain,(Ronnie Milsap), Rains Down in Africa,(Toto) and it Never Rains in Southern California,along with A Rainy Night in Georgia. Now I begin to think there is Signing in the Rain,(Gene Kelly), Kissin' in the Rain,(Toby Keith), Raindrops Keep Falling on my Head,(B.J. Thomas). Then we have Purple Rain,(Prince), Fire and Rain,(James Taylor), Rainy Day Feeling Again, Here Comes the Rain,Love a Rainy Night. Again we have Have You Ever Seen the Rain and Who'll Stop the Rain, (CCR). There is Rhythm of the Rain,(Cascades), Rain Fell Down,(Stones) and finally Rain is a Good Thing,(Luke Bryan).
So by now you may be wondering what does all these rain songs have to do with production? Read on for the answer!! It all starts with the Zephyr Lily. The Zephyr winds from the west must blow in the rain for the Zephyr lily,( AKA Rain lily ). This easy to grow bulb, a crocus look alike, transforms like magic across the landscape. Get it? Yes it blooms after the rain.
Although many of the common names include lily, these plants are in the Amaryllis family. The Rain Lily is a hardy perennial that can be planted in mass groupings or here and there in nooks and crannies. This plant is easy to cultivate and fast to naturalize. This is one plant that is perfect for our hot summer climate, growing in full sun and or part shade with well drained soil. So the production plant of the month is the rain lily.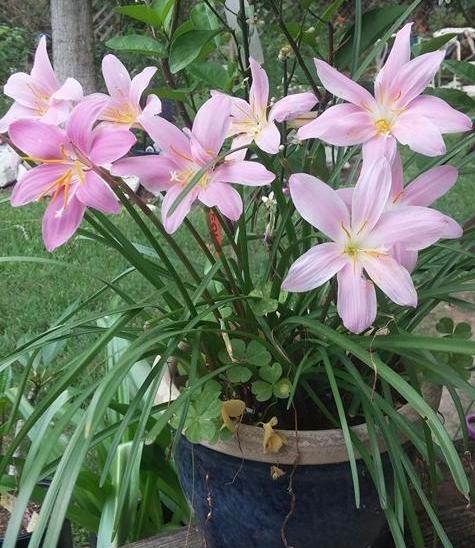 The production team planted 3,000 rain lily bulbs in wonderful colors of pink,white and yellow. Remember with the Magic lily, Fairy Lily, or Rain Lily, the" MAGIC" is the rain, it's a good thing. Please stop by the nursery to witness the magic.
I admit it. I am a compulsive plant collector. I collect native plants, heirloom vegetables, antique roses and all kinds of salvia. My new obsession… tropical hibiscus.They are the most showy, colorful, stunning, spectacular plants and flowers in the world! (in my opinion) And the fun part is growing them is easy. Tropical hibiscus have a few requirements but nothing hard.
These hibiscus need full sun to filtered light in our hot summer afternoons. Water them regularly but don't let them get soggy. A very important requirement is fertilizer. Hibiscus really need their own food. These plants originate from volcanic regions which are high in potassium. Potassium is the third number on your fertilizer container. Maas carries food specifically for hibiscus to meet the unique nutrient requirements of these plants. I use granular food because it is easy. Water your hibiscus a little first, sprinkle the food around the plant and water again to start the feeding. Slow release fertilizers will feed the plant every time you water. Do this for your hibiscus every month or more during the blooming season. My hibiscus in pots get fed every two weeks.
The only real issue with hibiscus is they are not freeze hardy. Bring your hibiscus pots in if the temperature gets to the low thirties. For hibiscus planted outside use Insulate cover over the plants and secure it to the ground with rocks. Do not use plastic as this will burn the plants and bed sheets sometimes are not enough cover. One of my colleagues at Maas is very clever. She uses cotton backed plastic picnic table cloths to prevent freezing hibiscus. The cotton side goes on the plants. She says they work great. If after all your precautions your plants still freeze, do not pull them up immediately. I have had hibiscus come back from the dead several times because the roots did not freeze. In spring, cut the dead plants back to the ground and wait. Miracles do happen.
Sometimes hibiscus get pests or fungus. Treat your hibiscus with Triple Action when this happens. It is an organic pesticide and fungicide all in one that does the trick every time. Spray your plants when you first notice the problem, Don't let the bugs get out of hand.
There are so many beautiful pictures of hibiscus from the nursery. Here are some examples of the colors and varieties Maas carries. If you want a special variety, call before coming. Our stock changes daily. My advice is come to the nursery and see what we have. It's a fun outing and the hibiscus won't disappoint!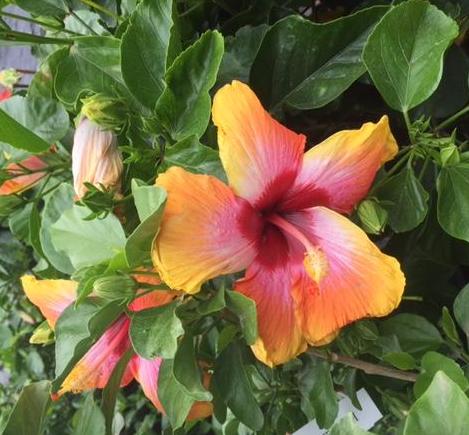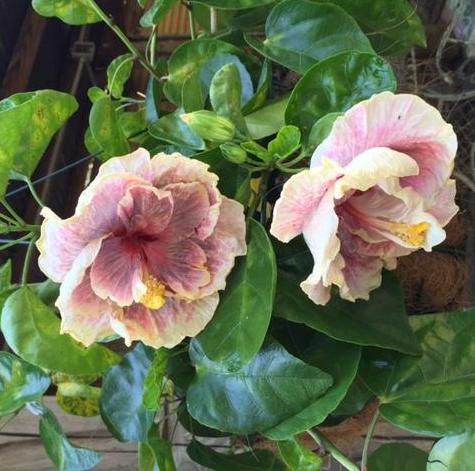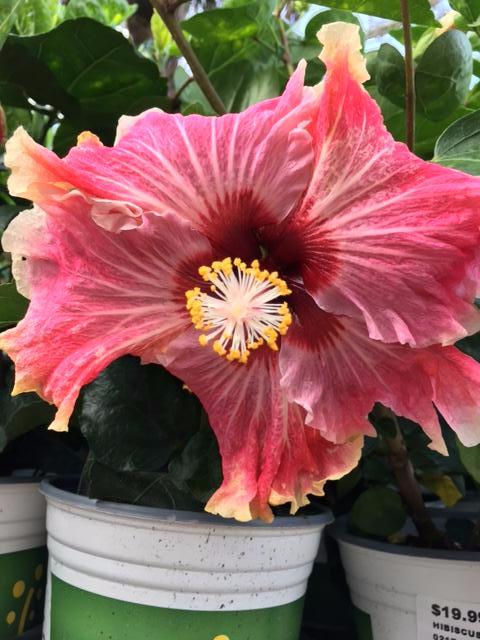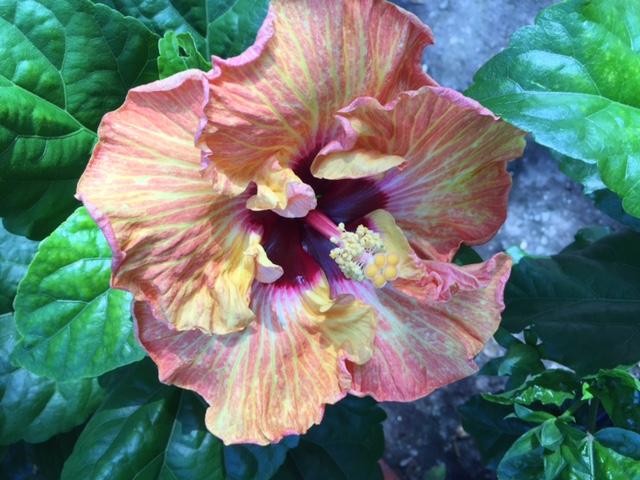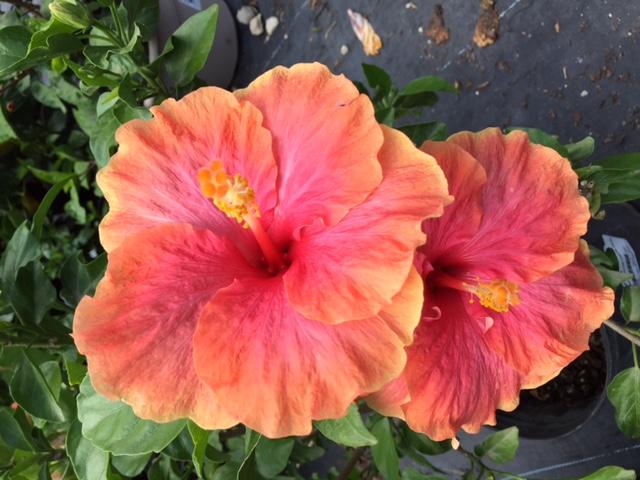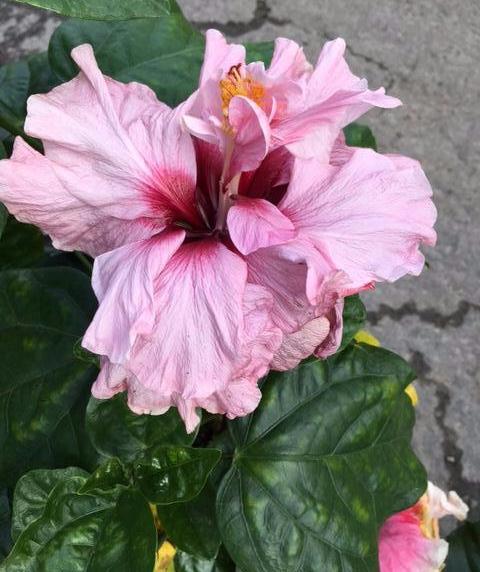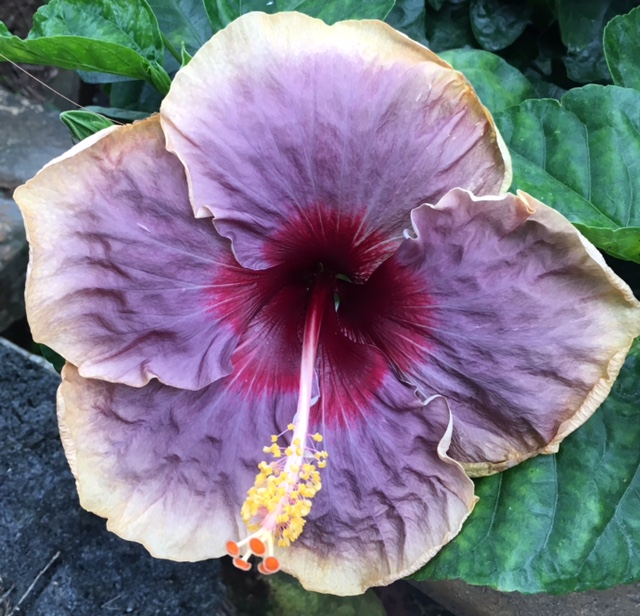 Interested in Elephant Ears?
Are you looking for an interesting tropical plant for that spot in your yard that doesn't drain well? Or perhaps you're looking for a striking plant for a container or water garden. Take a look at the many elephant ear varieties available, a group of tropical perennials grown for their large heart-shaped leaves, for both sun or shade.
Elephant ears belong to the family Araceae, as do caladiums, and can either be from the genera Colocasia (Taro) or Alocasia, native to tropical Asia and Pacific islands, or Xanthosoma, native to tropical America. All are grown year-round in more tropical areas but die back and go dormant during our zone 9 winters.
Colocasia varieties, perennial in USDA zones 8-11, prefer full sun and wet soil, and can tolerate standing water.
These can make an attractive addition to any water garden. The plants grow from tubers or corms, with propagation by division only. Alternately, Alocasia varieties, perennial in zones 8b-11, prefer shade or part sun with frequent watering in well-drained soil. Grown from both tubers and rhizomes (underground creeping rootstalks), both can be used for propagation of new plants.
By appearance, Colocasia varieties can be identified by their downward pointing leaf tips, with leaves extending from long petioles (succulent stems) coming directly from the corm and attaching near the middle of the lower surface of the leaf. Alocasia and Xanthosoma leaf tips point outward and upward generally, with the petioles attaching at the base of the leaf.
The plants do well in pots with lots of organic matter mixed into the soil and appreciate regular watering. Many varieties of the Colocasia genus are wetland plants that can also be featured in water gardens, but Alocasia varieties prefer well drained soil. Both varieties do well in part shade to sun with some protection, but the darker purple-leaved types especially enjoy full sun. In beds, elephant ears can be planted en masse, or play well with other striking tropicals like cannas, criniums, or bananas. Coleus and caladiums also make good planting companions.
Many elephant ear species have traditionally been grown as a staple food for the edible starchy corms or tubers.
The Hawaiians pound the cooked taro (Colocasia esculenta) tubers into a paste known as poi and use the leaves to wrap fillings like chicken or fish that are then steamed. (All parts of the plant contain calcium oxalate crystals, and uncooked, will cause stomach upset if consumed; sap can be a skin irritant.)
Some fantastic Colocasia selections at Maas Nursery include Black Coral, a clumping variety with deep purple leaves, growing 3 to 4 feet tall and wide, and Hawaiian Punch, a clumper with small 8-inch-long green leaves and bright red stems. Alocasia selections include the Yucatan Princess, a dark green leafed beauty with burgundy stems that grows 6 to 8 feet tall and 4 to 5 feet wide, or the large similarly sized Portadora with dramatic ribbed leaves. We also carry Lime Zinger, a bright chartreuse Xanthosoma variety growing 2 to 4 feet tall and 1.5 to 3 feet wide that will brighten up any planting area.
 by Kim Nichols Messer
        It is important to celebrate our moms all year long, but on May 14th we want them to feel extra special.  Consider an herb pot.  You may select one already potted, we have many to choose from, or design your own.  A 19 inch pot will hold six herb plants easily depending on the growth pattern of the herb.  An Herb de Provence pot will provide an excellent source for seasoning many kitchen creations from baked chicken to roasted vegetables.  Using a 19 inch clay pot, put drainage material in the bottom and add a good organic soil.  The Provence herbs of your choice may be planted together.  I would put Basil in the middle as an anchor plant for some height. Oregano, Thyme and Sage on the outside ring, and Prostrate Rosemary can dangle down the side of the pot. The Basil will also repel mosquitoes as an added bonus.
       You may do a combination mint pot for cool and refreshing summer beverages.  Peppermint, Spearmint and Chocolate Mint are all fun and easy to grow.  You may do a pot with Fennel and Lemon Grass sharing the center of the pot as an anchor, then add Garlic Chives and Thai Basil, or Coriander and Cilantro for a stir fry or soup pot.  Lemon Grass will do double duty and also repel mosquitoes.
        A simple pot of Basil will provide almost endless pesto opportunities for al fresco dining.  And now that tomatoes are ready, my favorite combination, fresh basil, sliced tomatoes and mozzarella with a drizzle of balsamic vinegar, some olive oil and cracked pepper… Yum!
       Give the gift of herbs.  They are easy to grow and low maintenance. Sunshine and well drained soil will give you happy plants to cook with and share with others, Good gardening!
Deb Pavlosky
"Smell is a potent wizard that transports you across thousands of miles and all the years you have lived." – Helen Keller
When most people think of fragrant flowers, I would assume roses come first to mind. Roses have such a wide array of colors and bloom types and growing habits and, yes, also fragrance. So, though Shakespeare wants us to believe differently, a rose by any other name does not necessarily smell as sweet. Actually, there are roses with no scent at all. Peggy Martin is one very popular variety of pink climbing rose that has no scent.  So, if you are trying to grow fragrant plants, and you are planning to use roses, be sure to smell the blooms before you purchase your plants. Also, check the temperature and time of day when you sniff the blooms. Some roses have stronger scents in cooler weather and some have stronger scents in the mornings. So, do a little research before picking your roses.
The following are just a few fragrant rose varieties that you can find at Maas Nursery.
Fragrant Cloud – Coral or red orange blooms, Strong sweet spice and rose scent
Double Delight – Red blooms with cream interior, Strong spicy rose scent
Don Juan – Red climbing rose, Strong rose scent
Cecile Brunner – Pink Climbing rose, Moderate tea scent
Mister Lincoln – Velvety, deep red blooms, Strong Damask rose scent
   Bulls Eye – Cream or Ivory flowers with cranberry centers, Moderate sweet spice scent
   White Licorice – Yellow blooms (more yellow when cool), Licorice and lemon scent
Belinda's Dream – Pink blooms, Moderate fruity scent
      Iceberg – White blooms, Mild honey scent
Beyond roses, there are many choices of very fragrant plants to use in your landscape.
More choices to add fragrance to your garden:
Annuals:
Flowering Tobacco – This plant is also known as flowering tobacco. Grows to 48″ in sun to part shade. Can bloom all year and blooms range in colors including white and pink.
Stock (this one likes cool weather) – Stock blooms in a variety of colors (pink, purple, white) in spring. Grows well in sun to part shade.
Sweet Alyssum – This plant blooms in clusters of very fragrant flowers (colors can be white, pink or purple). This annual is a prolific bloomer all year and some varieties can be grown as short-lived perennials.
Perennials/Shrubs:
Banana Shrub – Creamy-yellow flowers that have a banana scent.   This shrub blooms
| | |
| --- | --- |
| | |
| | Frost Proof Gardenia |
during the warm seasons. Slow growing, 6′-10′ tall and wide. Part to full sun.
Brunfelsia – Also known as Yesterday, Today and Tomorrow. Very fragrant purple flowers fade to violet and then white over a period of days. Some varieties only grow to 4′ tall and wide and others 3′ to 8′ tall and 4′ -6′ wide. Part sun.
Buddleia – Also known as Butterfly Bush. Most varieties are purple flowering and bloom summer through fall. Butterfly bush ranges in size from 3′ to 7′ tall and 3′ to 5′ wide. Full sun.
Butterfly Ginger – This ginger blooms white from mid summer to early fall. Best grown in sun to part shade. This ginger will grow 4′ to 6′ tall.
Crape Jasmine – White blooms through spring and summer. Fragrance is stronger in the evening. Can grow to 6′ to 8′ tall and wide. Part to full sun.
Gardenias – There are many varieties of Gardenias and they range in size from Radicans (6″ to 12″ tall and 2′ to 3′ wide) to First Love (5′ to 8′ tall and 3′ to 6′ wide). First Love blooms late spring through early summer, Radicans and Frost Proof bloom in the summer and August Beauty blooms through spring through fall. Most people are familiar with the stark white blooms and amazing fragrance of gardenias.
Geraniums (lemon scented) – Blooms in summer with light pink to purple flowers. It's the foliage with the lemon scent that you smell. Grows 18″ high and wide. Part to full sun.
Heliotrope – Can be perennial, but mostly grown as an annual. Purple flowers with intense fragrance that bloom spring through summer. Part to full sun.
Mock Orange – Blooms white flowers in April and May. Can grow to 6′ to 8′ tall and wide. Full to part sun. This shrub is deciduous.
Natal Plum– White flowers are very fragrant and this plant will bloom all year in sun to part shade.   Fruits will form on this plant, but leaves and flowers are poisonous.
Night Blooming Jessamine (aka Night blooming cestrum or night blooming jasmine) – Very small greenish white flowers bloom in the summer. Grows to 8′ to 10′ tall and 3′ wide. Part to full sun. Blossoms only open at night.
Pineapple Sage (Tender perennial) – Blooms, showy red flowers in late spring to fall. The foliage has a pineapple scent and can be used in drinks and foods. Grows 3′ to 4′ tall and wide. Full sun.
Pittosporum – Pittosporum shrubs bloom with very small clusters of orang-blossom scented flowers in spring. The Japanese Mock Orange variety can grow to 10′ to 12′ tall and wide.   The Variegated Japanese Mock Orange grows 6′ to 8′ tall and wide or even larger with age. Wheeler's Dwarf Pittosporum grows 2′ to 3′ tall and 4′ to 5′ wide. All like part to full sun.
Sweet Olive – Small white blooms in the spring that are very fragrant. This plant likes morning sun and afternoon shade. It can grow to 10′ tall if un-pruned.
Viburnums– Eastern snowball viburnum blooms masses of white flowers though summer. It will grow 12′ tall and 10′ wide or larger with age. This shrub requires part to full sun. This shrub is deciduous.
Vines:
Arabian Jasmine (can be considered a shrub as well) – The fragrant white flowers open at night and bloom June through September. This plant will reach 6′ to 8′ tall and 3′ to 4′ wide. Part to full sun.
Carolina Jessamine – Blooms bright yellow flowers in late winter to early spring. This vine will grow to 20′ with support. Part to full sun.
Confederate or Star Jasmine – Very fragrant white flowers from spring to summer. This vine can reach 18′ to 20′ with support or 1′ to 2′ as groundcover. Part to full sun.
Honeysuckle – Hall's Japanese Honeysuckle has white to yellow flowers that bloom in the summer. This plant can be grown as a vine to 15′ tall or groundcover to 2′ tall. Full sun. Trumpet Honeysuckle has trumpet-shaped scarlet-orange flowers and blooms spring through fall. It grows fast to 20′ long. Part to full sun.
Passion vine – The incense variety blooms violet to lavender from late spring to early fall in sun to part shade. This vine can grow to 10′ long.
Pink Jasmine – Very fragrant light pink flowers spring to early summer. Will grow to 20′ long. Full sun.
Rangoon Creeper– Also known as Drunken Sailor, this plant blooms in clusters of red flowers that fade to pink from late spring to mid fall. Can grow to more than 40′ in sun to part shade. This is a tender perennial.
Wisteria – The Texas Purple Japanese Wisteria blooms purple flower clusters in the spring.   This is a fast growing, deciduous vine that will grow to 25′ long. This vine likes full sun. Amethyst Falls Wisteria is also deciduous and will to 10′ long. This vine blooms with purple racemes in late spring and repeats lightly through summer. This vine likes part to full sun. Evergreen Wisteria blooms late summer to early fall and will grow to 15′ long in full sun. Evergreen Wisteria has been described as having a camphor-like scent.
Trees:
Angels Trumpet – These small trees can grow in sun to part shade. Blooms can be pink, white, yellow or orange and appear from summer to early fall. They usually grow 6′ to 8′ tall and these are poisonous plants. Angels Trumpet flowers are most fragrant in the early evening.
Citrus – All varieties of citrus trees produce fragrant flowers before they fruit.
Magnolia – Brackens Brown Beauty is a moderate grower to 50′ tall and 30′ wide in full sun. This variety blooms in late spring. The creamy white flowers are very fragrant. Sweet Bay Magnolias are moderate growers to 20′ tall and wide in part sun. The creamy-white, lemon scented flowers appear through the summer.
Mexican Plum – This tree will grow 15′ to 35′ and blooms fragrant white flowers before leaves appear. This tree does well in full sun.
Texas Mountain Laurel – This small shrub or tree blooms purple blooms in the spring that smell like grape soda. This plant prefers full sun and is slow growing to 10′ to 15′ tall and 8′ to 10′ wide. Can also be trained on an espalier or grown as a patio tree. Once established, it will only need occasional watering.
These are just a few options for adding fragrance to your garden. There are so many more….
Spring is here and I am looking forward to the aromas of freshly mowed grass and sweet smelling blooms. Time to add some sweet-smelling plants to your garden too.
Herbs

 Herbs are so easy to grow in the Houston area!
This category includes plants that at some time in history have been considered valuable for seasoning, medicine, fragrance, or general household use. As you look through this list of plants, you can recognize certain herbs because they bear the species name officinalis– meaning sold in shops , edible, medicinal, recognized in the pharmacopoeia. Today harvest is used almost entirely for seasoning foods.Herbs are versatile. Some creep along the ground, making fragrant carpet. Others are shrublike. Many make attractive pot plants. However, many herbs do have a weedy look, especially next to regular ornamental plants. Many herbs are hardy and adaptable. Although hot, dry, sunny conditions with poor but well-drained soil are usually considered best for most herbs, some thrive in shady, moist locations with light soil rich in humus.
Many of the commonly grown herbs are interesting enough that they make nice additions to any landscaped area, not just confined to the vegetable garden!