Maas Nursery
by Kim Nichols Messer
                  Herbs can be grown easily in a container.  I like to start a couple of herb pots each season.  In the fall and winter, I prefer the savory herbs.  You may use almost any type of container.  A lightweight plastic container is good if you need to move the pot around as the light changes during the season.  A 15-gallon container will fit six herb plants easily.  Most herbs really only need about six inches of soil below to spread
out their roots.  A large terra cotta pot is a beautiful addition to a porch or patio but will be a bit heavy to move.  A 16.5-inch pot will hold six herb plants.  You may also plant herbs in a window box.  A smallish version will easily hold four herb plants.  I have parsley in a large mason jar in the kitchen window.  A small Bay Laurel plant will do well in a small pot outside in the sunshine.
                   Use good organic potting soil in a pot with several holes for good drainage.  Then choose your favorite herb combinations.  As the weather cools, I will be roasting root vegetables and making soups.  Some of my favorite winter herbs are Sage, Rosemary, Oregano, Thyme and of course Parsley.  Try roasting some beets with olive oil and rosemary.  Or butternut squash with sage.   Thyme is great with chicken and roasted vegetables.  Sage and Bay leaves are great in soups and stews.  Herbs are so easy to grow and so economical to have nearby for use in your cooking.  Fresh herbs will really enhance the flavor of your dish.  Give it a try, grow some herbs.
It's Amaryllis bulb time at Maas! I'm not one to push the holiday season but when the amaryllis bulbs come in I get that warm, comforting holiday feeling. Amaryllis bulbs are great for our gulf coast area. You can plant them in decorative pots for your tabletop or mantle. After your amaryllis bloom, they can go straight to the garden. No need to worry about freezing for most varieties and they are very carefree. For me, picking out only one or two varieties a year is the hardest part of the amaryllis experience. You can choose from solid red, white or pink. Pick double or single, or fat or thin petaled amaryllis types. Choose stripes, flowers with different colored throats or sparkling petals. The choices seem endless. Right now I'm preferring the sparkling ones but that may change tomorrow. Choose large bulbs for more flower stalks when the blooms appear.
Once you have chosen your bulbs decide whether you are going to plant them outdoors or in a pot for inside
. If you decide on a pot, think about how many bulbs you want to plant. Amaryllis get big so the pot needs to be big enough for your number of bulbs. The pot doesn't need to be deep but make sure it is wide enough to accommodate the blooms. You can pick any kind of decorative type planter. Make sure it has holes in the bottom or is deep enough to keep water from actually touching the bulb. Also, the planter needs to be heavy enough to hold the blooming amaryllis and big enough that the bulbs do not touch each other. I use some regular, well-draining potting soil and some green Microlife fertilizer in my amaryllis pots. Plant your bulb with the shoulders exposed. This means the top of your bulb is above the dirt. I love this part of planting amaryllis because you can instantly see when the first leaves emerge. Water sparingly until you see the leaves, then water more as the plant begins to grow. Once the flower stalks appear the plant grows very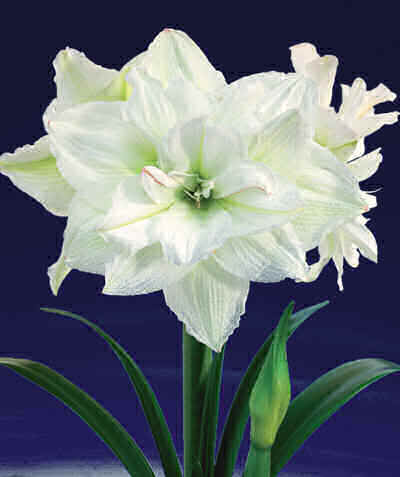 quickly. I always stake my amaryllis flower stalks as they can become very top heavy when the flowers bloom.  I use bamboo stakes and green gardeners tape but you can make the stakes more decorative if you like. Different types of amaryllis take different amounts of time to bloom. If you are trying to have blooms around the holiday's research how long it takes the different varieties of bulbs to bloom. An average flowering time is seven to ten weeks although some types will bloom in six weeks. After the blooms die, cut the flowering stalk back to an inch and a half above the bulb. Leave the leaves on the plant to allow the bulb to build up nutrition for the next year.
 At this stage, my bulbs always go out to a designated spot in my garden. I love the way amaryllis look when planted in groups. I carefully remove the bulb from the pot, dirt and all, and plant it in the 
garden at the same height it was planted in the pot. Do not plant your amaryllis deep. This causes the bulb to rot. My amaryllis garden is also in a raised bed so the bulbs never sit in water. Good drainage is essential for the success of your bulbs. After this step, my bulbs are pretty much ignored until the leaves start to die back the next fall. Sometimes I cut the leaves back to about three inches above the bulb at this point but you don't have to. It does keep the garden looking a little neater. Fertilize the bulbs and wait for the cycle to start over again.
Amaryllis have definitely become my favorite bulbs by far. They are extremely carefree and hardy, always give me a great bloom show and the leaves are pretty in the garden even when they are not in bloom. Mine have survived the Harvey flood with flying colors and I am eagerly awaiting my next blooms. Come see the new selection of fall bulbs including amaryllis bulbs at Maas this month. Bulbs are a great thing to add to your garden.
By: Deb Pavlosky
So, who really wants to grow something called carrion plant?  It doesn't SOUND pretty or like anything anyone would actually want to grow and propagate. But, I am really enjoying watching mine grow and flower.  Carrion plants aka starfish plants aka toad plants are in the genus Stapelia.  This genus of approximately 50 species originates in South Africa.  Carrion plants use their flowers to attract pollinators just like other flowering plants, but the pollinators this plant attracts are blowflies.  Blowflies like rotting meat, so yes, Stapelia flowers have been purported to have a less than pleasant smell, much like the corpse flower that many go to museums and botanical gardens to see when in bloom.   It's a novelty and interesting, but also very beautiful in bloom.
The buds look like tiny darts protruding from the stems and grow quite large and almost look like angular balloons with hand-sewn seams before they open.  Once the blooms open, they look like hairy starfish.  The blooms seem to last a very long time and I have yet to notice the smell, but I do have mine in a hanging basket about 7′ off the ground. So, I don't get right up next to it.
These plants like bright, indirect light and can be grown indoors near a bright window as well as outside.  Full afternoon sun in the Houston area might be too much for this plant, but morning sun with shady afternoons would be ideal.  In the colder months, this plant needs to be protected from freezing.   I will be bringing mine inside to overwinter.  Like all succulents, this plant needs very well draining soil and only occasional watering (some suggest no water during winter).  Applying a very light/dilute fertilizer infrequently during the warm/growing seasons will help with plant health and flowering.  In the spring, I will transplant mine to a clay pot and also take some cuttings.  Cuttings should be allowed to dry and harden over before planting.  More carrion plants to share with friends and family!  Such a fun and interesting plant to grow and share.
By: Pat Cordray
Take a deep breath, now exhale, it is October.  Possible cooler weather with fewer pests is almost here.  A great gardening month with tons of things to plant from vegetables to beautiful color plants.  I'm so ready for this.
Fall vegetable gardening goes into high gear as we get cooler, plant beets, broccoli, cabbage, carrots, Swiss chard, collards, kohlrabi, lettuce, mustard greens, English peas, snap peas, radish, spinach, and turnips.  Does any of these veggies sound good to you, then go outside and plant them.
Fall color, this is the optimum time to plant beautiful color for the fall. Plant lobelia, alyssum, snapdragons, dianthus, phlox, nasturtiums, bluebonnets, dusty miller, marigold, petunia, violas, ornamental kale and ornamental cabbage.  As the weather gets a little cooler, it will be time to plant pansies and cyclamen.  These plants will add bright colored blooms and/or interesting leaves that are perfect for any container or garden.
If you want poppies, larkspur, sweet peas, delphiniums, hollyhocks and foxglove blooming in the spring, now is the time to plant the seeds.  Before you plant your seeds, check the package to see if there are any special instructions for the seeds you picked.  Examine the seeds to make sure they are not broken.  Broken seeds will not germinate.  I usually soak all of my seeds overnight in tepid water to help the germination process along.  Plant seeds in raised beds or in containers with organic soil topped with worm castings.  The worm castings will give the young plants the boost they need without burning.  Gently water your new seed plantings to keep them moist, too much water pressure will wash your seeds away.  Seeds are great way to add loads of color and variety to your garden.
Bulbs are another great way to add spring color to your containers or in your garden.   Bulbs need a raised
bed or container that has good drainage, full sun (part sun in summer, under a deciduous tree would be perfect), and water.   These bulbs spent the last year getting everything they need to bloom this year.  So, plant them and they will bloom in amazing colors.  Toward the end of this month and through November plant Dutch Iris, ranunculus, calla lilies, Leucojum, Lycoris, and daffodils.  Tulips and hyacinths will need to be refrigerated 4-6 weeks before planting.  Hyacinths need to be planted from mid-November through early December.  Tulips will need to be planted mid-December through early January.
So much beauty to look forward to, I love gardening!
Enjoy your garden,
Pat
By: Kim Messer Nichols
        As summer slowly winds down, it is a good time to plan and create a quiet spot in your yard to sit and relax from a hectic day or week.  The upcoming cooler weather will make an evening in your garden both peaceful and refreshing.  I have flowering plants and shrubs in my landscape as well as hanging baskets hanging from long chains from our Oak Trees.  I have plants which bloom for several days to weeks that attract butterflies and bees.  Pentas, Salvias, Lantana, Porter Weed are wonderful nectar plants for the bees and butterflies.  Milkweed, Fennel, Cassia and Passion Vines are host plants for butterfly caterpillars. I consider these plants to be my daytime standouts.
        Some people do not know that you may have nighttime standouts as well.  I have two upright Night Blooming Cereus.  They are slightly different varieties which open about 10:30 at night with quite a spectacular display.  The large bud, about 3 to 4 inches will pop open in about 5 to 10 seconds.  It will only last for the night and will start closing just after sunrise. I also have a night blooming Epiphyllum Cactus which is in the Orchid family.  It will also pop open around 10:30 and produce a very fragrant bloom until sunrise.  I usually have to catch them in early morning before sunrise.  What a great way to start the day.But I must admit,  my most favorite night bloomer, is my Night Blooming Jasmine.  Tiny white tubular flowers will burst open with fragrance once the sun sets.  Not at dusk, but once darkness envelopes the yard, the Jasmine flowers shoot fragrance out like a bellows creating a heady cloaking fragrance.  It is really quite spectacular.  What a great way to end the day.
        So pull up a chair and enjoy your garden.  Cooler weather makes morning, afternoon and evening all equally enjoyable.  A bird, bee and butterfly friendly environment will be a joy to all who take the time to sit and enjoy the view.
| | |
| --- | --- |
| Night Blooming Cereus | Epiphyllum Cactus |
By: Jennifer Gregory
Summer may still be scorching us, but September is just around the corner and with it the optimal time to plant many of the seeds for fall and winter gardens. Prior to planting seeds make yourself a check list of products that will increase your propagation, yield and over all health of your crops.
* Mycorrhizal inoculants: Including Mycogro, or Microlife. These products contain an
beneficial fungi that colonize the roots of plants and increase their water and nutrient absorption capabilities.
* Fish Emulsion: An all natural and organic liquid fertilizer that is easily and readily absorbed when used as a foliar spray.
* Organic Pest/Affliction Control: These products can vary based on the issue and the crop, but a good general purpose such as Neem Oil will go far in treating most insect or fungal based ailments.
Onward to the seeds! September is a great month for starting your garden from seed. At the start of the month you'll want to plant Cucumber, and winter Squash.
 October sees an explosion in the number of types of seeds we can plant in this region. Broccoli, Cabbage, Cauliflower, Kohlrabi, and Potatoes should be planted in the first half of the month. Chard, and Collards in the middle of the month.
This is also the start of the period to plant annuals for spring color! From October to December you can plant Alyssum, Asters, Bluebonnets*, Calendula, Dianthus, Flowering Cabbage and Kale, Pansies, Petunias, Phlox, Shasta Daises, Snapdragons, Stock and Violas.
*Sow Bluebonnets no later than November for spring flowers.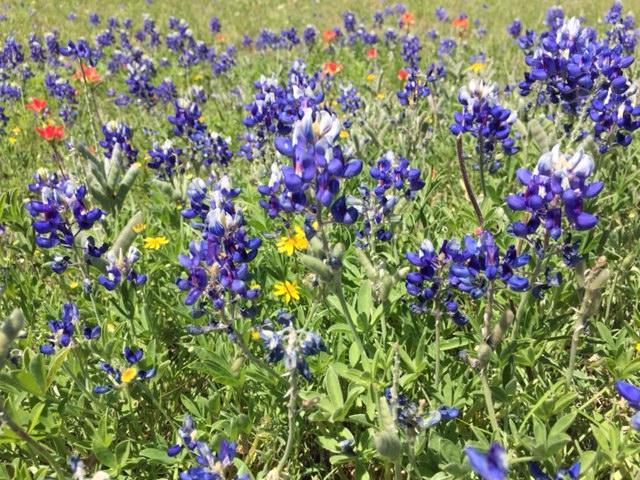 November brings root vegetables, Beets, Garlic, Carrots. Lettuce should also be sown during this month.
December wraps up winter planting with Mustard, Onion, Radish, Spinach and Turnips.
Growing from seed takes more patience, but in the end the pride one feels seeing something you started from a packet become a hardy and healthy plant is beyond compare.
-Happy Planting!-
Well, we have survived a Biblical flood as Mayor Sylvester Turner says. So many of us are still out of our homes or are cleaning up the aftermath. We're tired, cranky and generally on edge. What can we do to relieve some of this stress and frustration? Jim is having Prayer in the Garden this Saturday, September 2. That will definitely help. Sitting outside in the sun today helped me tremendously. So many birds, butterflies and moths, lizards and other critters were out in the sun too, celebrating the end of the rain. Soon, we will have our hummingbird migration throughout the Gulf Coast. At last, something to look forward to!
To be ready for the hummingbirds when they reach your yard you need several things. First is a chemical free, safe environment. Garden organically for the wildlife in your backyard. Do this not only for the health of the hummingbirds but also for the welfare of your kids, your pets and yourself. It's very easy and in the long run, very rewarding. Hummingbirds need places to rest and nest. Provide them cover in the form of bushes and small trees. The hummingbirds in my backyard particularly love my climbing roses. They perch on the branches and build nests in the brambles. Also provide a source
of water for these birds. They prefer running water. I have found bubblers or small solar fountains floating in a regular birdbath work great. If you have a fountain in your yard, that's great too. Make sure there is a place for the birds to perch or land that is shallow. This gives the hummingbirds access to the water.
Now, on to my favorite part. The plants. You can use feeders if you want but I like to grow the plants hummingbirds prefer. If you use feeders, make sure they are always clean. Also use a hummingbird safe food. Never put red dye in your hummingbird food. Plants are just easier to grow and you never have to worry about organic plants being safe. You can learn all of this in our Hummingbird Class on Saturday, September 23.
Hummingbirds have developed a long narrow beak and a proboscis (like a tongue) to get nectar out of tubular shaped flowers. They also prefer the colors red and purple. This gives you a very long list of plants to pick from. The most popular hummingbird plant is actually called hummingbird bush, fire bush or hamelia. I have seen these bushes in many yards. Some get quite large but
there are also dwarf varieties. Other plants that come to mind are flame acanthus, firecracker fern, any type of red or purple salvia, porterweed, liatris, red shrimp plant, beebalm and so many more. There are a few vines that hummingbirds love. Honeysuckle and crossvine are two favorites. Make sure you have a large area if you want to plant these. You will have lots of hummingbirds but also lots of vine. There are new domestic varieties that are much tamer than the
natives. If you look at pictures of all these plants you can see a trend. All of them have tubular flowers and they are all red, red-orange or purple. Most any flower that fits this description will be a hummingbird plant. The Lady Bird Johnson Wildflower Center has a great website: www.wildflower.org . They have lists of all the plants and also which ones are native if that's important to you. All of us at the nursery have some hummingbird knowledge. If you have a question, ask us. If we don't know the answer we can find it for you.
It's time to get out of the house! Enough with the rain and the flood. Even though it's still squishy, let's all try to get outside in our gardens and get ready for the hummingbirds.
By: Pat Cordray
Just when you think that you can't take another August day, along comes September.  Granted, the heat is still here but it is a teensy bit cooler.  Any improvement, in the hot weather is much appreciated. But really September is just a "stepping stone" to October when the temperatures are a little more pleasant.  In the garden, vegetable growing expands, changing out our summer color for fall color begins, planting flower seeds for spring blooming wildflowers starts as the weather cools, and it is time for the fall bulbs to start arriving in the garden center. Plus, hummingbirds, hummingbirds, hummingbirds! Keep on the lookout for hummingbirds!  Even with the hot temperatures September is a great gardening month.
Last month, we planted tomatoes and peppers.  This month we need to move on to our other fall vegetables.  Vegetables like: beets, broccoli, Brussels sprouts, cabbage, carrots, cauliflower, collards,
| | |
| --- | --- |
| | |
| | Swiss Chard and Marigolds |
cucumbers, mustard greens, squash, Swiss chard and turnips.  My, how the list has grown from last month.  If you want to garden in the best possible weather, this is it.
Fall color is on its way, with lobelia, snapdragon, marigold, dianthus, celosia, chrysanthemum, alyssum, calendula, petunia and stock showing up during the month of September. This is an excellent time to change out summer color for new fall color.
These plants will bloom over the next few months giving your garden and containers a fresh new look.  Leave room for more fall plants as they become available in the next few weeks.
Toward the end of the month and into October, or as the weather cools. We can start planting wildflowers and other spring blooming flowers from seed. Pick bluebonnet, Indian paintbrush, coreopsis, larkspur, gaillardia, purple coneflower, gaura and black eyed Susans to grow from seed.  Plant your seed in a well-draining raised bed with lots of sun.  Spread your seeds in the bed and cover with about 1/8 inch of soil.  To make sure that the seeds make good contact with the soil, press down firmly on the soil where the seeds are planted.  Water gently and keep the soil moist.   Mix these seeds with plants in your ornamental garden or grow in wildflower beds.  Either way they will be beautiful.
| | | |
| --- | --- | --- |
| Bluebonnet | Larkspur | Coneflower |
Fall bulbs will be in this month.  We are expecting narcissus, tulips, ranunculus, hyacinths, callas and leucojum bulbs about mid-September. This year we will have a new pink tulip called Don Quichotte, I'm looking forward to seeing the blooms.  The narcissus included on this shipment will be Ice Follies, Red Devon, Skype (new, white with an apricot trumpet), Lemon Beauty, Apricot Whirl, Erlicheer, Tahiti, and Pipit.   There will also be Delft Blue hyacinths, mixed Ranunculus, Leucojum Aestivum (Summer Snowflake) and Calla Aethiopica(White Giant Calla Lily).  This is just the beginning with Amaryllis arriving in October.  Bulbs can add so much vibrant color to your garden when most everything else is dormant.
Hummingbirds should be out and about in September and on into October.  Planting for hummingbirds is a great way to invite them to visit your garden. Plants like flame acanthus, fire bush, firecracker fern, salvias, trumpet creeper, bee balm, purple coneflower, Turk's cap and cigar plant are a few nectar plants to consider.  Feeders are a great way to supplement the nectar plants you have in your garden.  Keep your feeders clean and full to ensure that the birds that rely on them won't go hungry.  Hummingbirds also eat insects, so don't use chemicals in your garden to keep them safe.  Make water accessible to them by providing a shallow water pan or saucer and adding pebbles. A mister, to spray water on leaves, is another way to provide water.
Enjoy your garden,
Pat
By: Kim Messer
        There are so many ways to add water to your yard.  It may be as simple as adding a bird bath.  We have a bird bath in a corner of the yard.  It is a water source for birds, bees and squirrels.  We refill it daily this time of the year.  Birds drink and bathe in the fresh water.  They usually stay awhile and fluff out their wings to dry before flying off.  The song birds passing through are really social little birds.  The Wrens will visit the bird bath in little bird packs of ten or twelve birds.  They bathe and then dry themselves in the sand rubbing their bellies and chirping.
        We also have a three tiered fountain.  The water flow provides a soothing sound for us and another water source for creatures visiting the yard.  It also seems to be a nice place for lizards to hang around.  The fountain rarely needs to be cleaned, and that just means scooping out the leaves and changing out the water.  The sediment rich water is great for your nearby plants.
        Here at the Nursery, we have an above ground lily pond.  The plants help filter the water for the fish inside.  It is quite a relaxing spot.  The Lotus Flowers rise up  from the murky bottom to open clean and fresh to greet the day.  They are certainly beautiful and deserve a second glance.
        There are so many ways to add water to your yard.  Just a little effort may bring great rewards… Enjoy your yard and share some water!
The Good, The Bad and The Buggy
By: Jennifer Gregory
They wriggle and creep through the undersides of leaves, looking for their next meal. They eat, hunt, and grow until one day they transform. Weeks pass and a new life splits forth, spreading wings out to dry as it's carapace develops color and hardens. These voracious predators take to the sky and descend where they see their chosen prey.
This Summer, Coming to a Garden Near You! Ladybugs!
The Terror of the Aphid!
Ladybird beetles, commonly known as Ladybugs are a brightly colored beetle whose iconic red with black spots pattern is instantly recognizable. What is less easy to recognize are their larvae.
This fearsome looking fellow is the larvae of a ladybug. This is one from about the middle of it's development. The younger larvae are solid black and the older larvae can show more orange mottling with a marked decrease in the "spikes" covering them.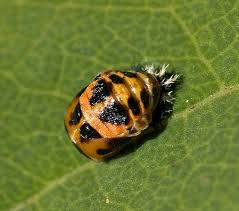 When a ladybug is about to mature from a larvae to an adult it will form a pupa. The pupa looks more like a mature ladybug, however, once the insect crawls free of it, it will still not bear much of a resemblance to the final mature form. While the beetle's shell is hardening it will be a creamy yellow-orange color, and totally free of spots. Once mature the newly hatched ladybug will be the familiar red hue with black spots.
If you have aphids you probably have ladybugs, be sure to check any plants prior to treating them so you're not taking the good out with the bad!